7 September 2023
Fall Bucket List: 19 Fun Things to do in Davis County this Fall
by Discover Davis
Fall in Davis County is so fun, we are Utah's amusement capital after all! We like to have fun and we like to avoid FOMO at all costs, so we've compiled the must-do's in Davis for the fall so you no longer have to worry about missing out on any fun events or fall fun! Water parks may be shut down, but they turn into spooky spots for adventure so hit up the dark side of Frightmares and Scary Hill. Go pick your gourd at Day Farms, Pack Farms or Black Island Farms. Get a new fall wardrobe of boots and sweaters at Station Park or go on one of our favorite fall hikes. Spend an afternoon on Bountiful Main Street, leaves crunching under your boots as you walk down Main meandering through wonderful local shops and the BDAC art gallery. Wherever you are, there is fun nearby if you're in Davis! If you're visiting and want to find attractions near you, check out our Wander map!
1. Spend an evening at the Scarecrow Walk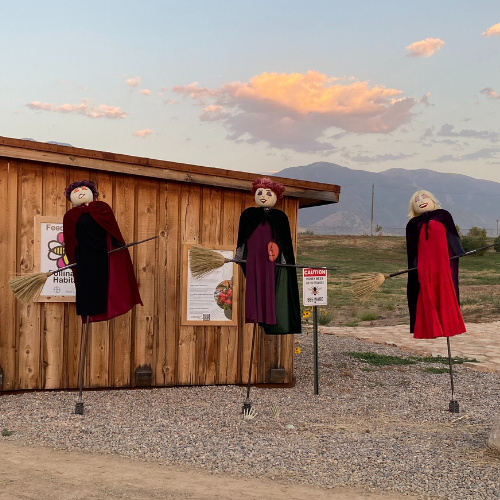 The Scarecrow Walk is awesome because it is come-and-go for a whole week, from dawn until dusk. You couldn't ask for better flexibility than that! However, we suggest attending opening night where the botanical center will be offering a taste-off, vendor booths, the Farmer's Market, and more! Plus it's just a good time. Pay attention to the numbers by each scarecrow display and then cast a vote for your favorite! Every scarecrow builder is hoping to take home a prize for the best in show!
2. Sunflower Festival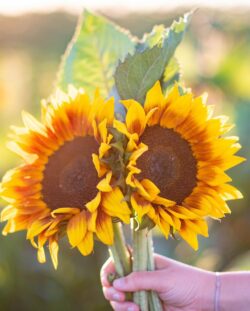 The Sunflower Festival at Cross E Ranch is the perfect way to enjoy a date night, friends-night out or just picking beautiful flowers! The flowers are a stunning setting for family pictures or that perfect selfie! With millions of blooms you can create the perfect arrangement! Purchase a container and fill it with beautiful sunflowers. Everyone receives one free bloom with paid admission, so no one goes home empty handed.
3. Scary Hill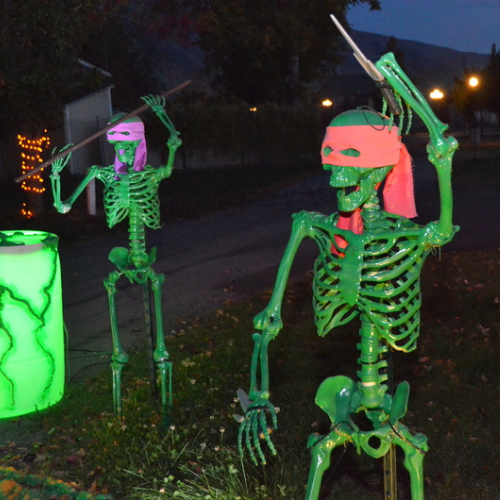 It's time to take the Cherry out of Cherry Hill and make way for…Scary Hill! Water slides may be a no-go this time of year, but go play some haunted mini golf, grab a pie at their pie pantry (fall flavors are better than summer flavors no contest), and enjoy their skeleton walk at Scary Hill. Extra points if you take a selfie with your favorite skeleton and tag us, @discoverdavis.
4. Syracuse Pumpkin Walk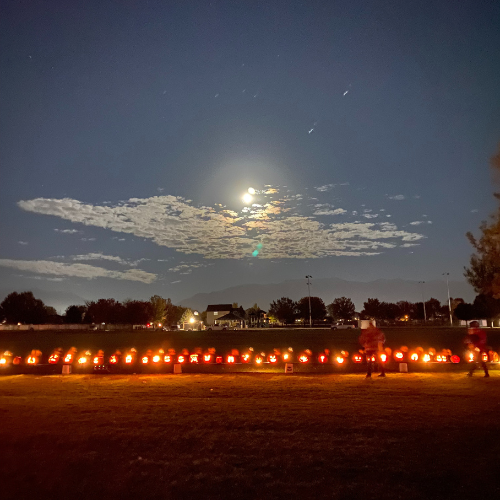 Truly an art exhibit but jack-o-lantern style, you won't want to miss the Syracuse Pumpkin Walk. A ton of work goes into this event and you can enjoy the warm orange glow of hundreds of pumpkins in the moonlight! If this doesn't get you in the mood for Halloween, we don't know what will. This event is great for the whole family! Stay and sit by the fire and grab some sustenance from the food trucks that are there for the night!
5. Bison Roundup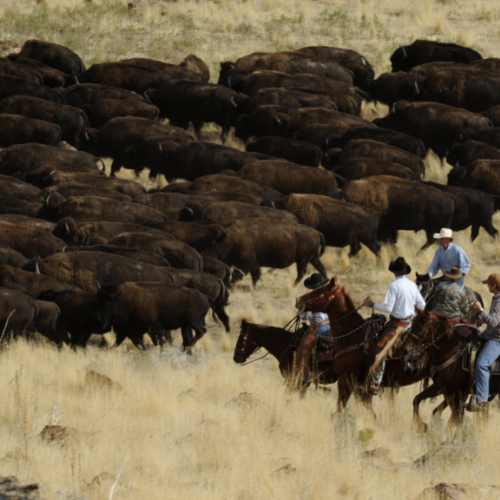 You don't have to travel all the way to Yellowstone to see the glory of our National Animal, the American Bison. Not only that, but see them in action as they get rounded up old west style by cowboys on horses into their corrals for their yearly checkup at the annual Bison Roundup. There are multiple viewing points along Mountain View Road as they are herded from the southern tip of the island to "heartbreak," their passage over to the western side of the island. Or, you can join the viewing party at White Rock Bay and watch their final journey after they've crossed over "heartbreak" and head towards the corrals. Interested in riding your own horse for this event? You can do that too!
6. Join an OAS Star Party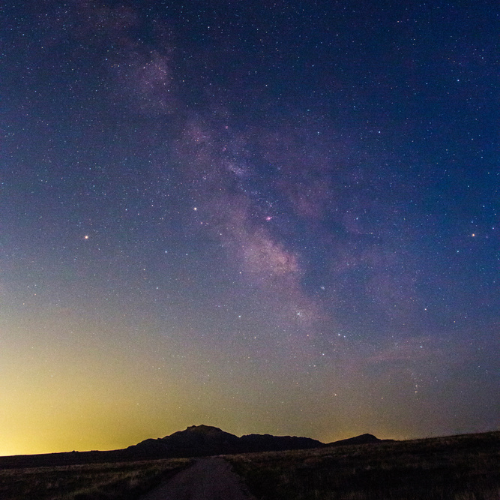 Our dark skies are internationally accredited, nbd. This means you can enjoy dark, starry skies that are normally obscured by city lights. You might be wondering how this is possible when we are so close to the city lights of urban development along the Wasatch Front. However, just a short trek away from Salt Lake City, Davis County, and Ogden, you can see the starry skies at Antelope Island State Park, an internationally accredited dark sky park!
The Ogden Astronomical Society (OAS) often hosts a dark sky viewing party each month at the island so you don't have to worry about access to your own telescope. The even greater part about these events? They are come-and-go events and we appreciate that flexibility in this day and age.
Want to make a weekend out of it? Stay at the island to camp, fall really is the best time to visit Antelope Island, so rent some e-bikes, eat a bison burger, plan a hike or a visit to the Fielding Garr Ranch historical site, kayak or jump in the lake, and have a great time.
7. Participate in a RAID at The Colosseum
What happens when you put some zombies in laser tag? You get a wildly fun, adrenaline-fueled mission that is just a good time. And we're not talking about simulated zombies on a wall, we mean…well, you'll see. We don't want to spoil all the fun. Maybe leave the younger kids at home, but take your older kids (their video game skills might actually come in handy here) or your group of friends and enjoy this unique experience. Be prepared for some fright, some thrills, and even some exercise that you'll be talking about for months. Plan your RAID and if you're looking for more to do, The Colosseum is conveniently located in Layton Hills Mall with lots of dining options, shopping, and even the Seaquest Aquarium!
8. Go to the Bountiful Farmer's Market
Before the season ends, make sure to reap the bountiful produce of the harvest season by visiting the Bountiful Farmer's Market. Celebrate the harvest season by supporting local and take the whole family to this fun outdoor market every Thursday evening at the Bountiful Town Square.
9. Find your way through a corn maze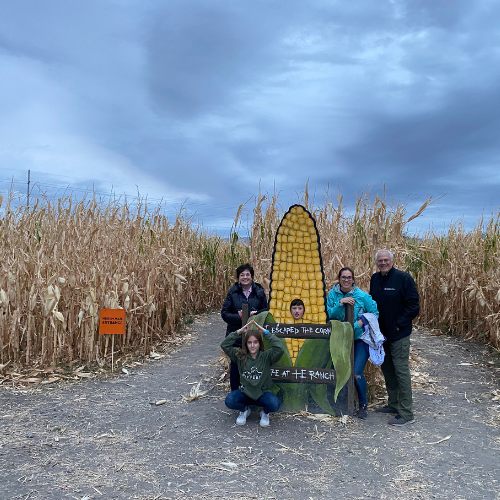 Not quite sure the whole family can accomplish a corn maze? Or maybe you're a little afraid of being stuck for hours and not getting out? Squash those fears and head to Cross E Ranch – their corn maze each year has a fun theme and design, and the best part…they offer 3 different skill levels! If you have young kids, then go in the easy version, or if you wanna challenge yourself, you have 2 other more difficult options! Plus, enjoy the rest of the fall festival in addition to the corn maze!
If you're interested in a haunted version of a corn maze, then head to Black Island Farms in Syracuse, they also have options and days when their corn maze is not haunted.
10. Go on a fall hike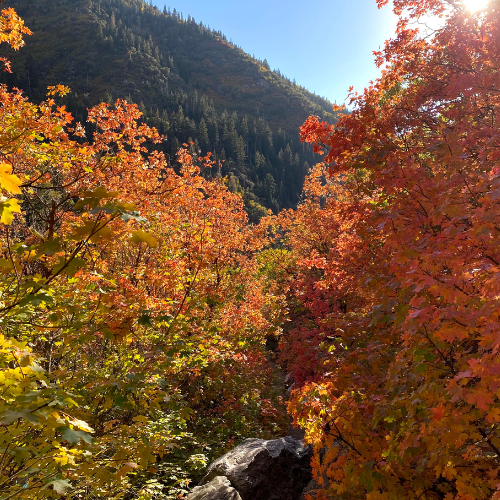 It's a mixed bag when trying to figure out how long the leaves will be multi-colored and beautiful, but generally, the sweet spot is mid-September to mid-October in the mountains. Check out our blog for our favorite hikes to see those beautiful leaves and don't forget your camera!
11. Go to Simple Treasures pop-up boutique
Want to support local artisans and get one-of-a-kind gifts for the holidays? Look no further than Simple Treasures annual fall and holiday boutique. It's a fun shopping experience to move from booth to booth (over 180 local vendors!) finding treasures, decor, gifts, or delectable treats. Our tip? Stock up on some pies at James' Gourmet Pies for the whole family or stock up on their mini pies, perfect just for you! If you're also new to the freeze-dried candy phenomenon, then you'll want to pick up some when you attend the boutique!
Fall Boutique: September 12-16
Holiday Boutique: November 7-11
12. Enjoy a day or a weekend at Antelope Island
Antelope Island State Park is a lovely place in fall – there are fewer bugs, the Spider Festival is long gone, and recreating in a no-shade environment is a lot better with lower temperatures. The new Cottages at Bridger Bay are a great way to glamp. Coordinate this with an OAS star party and stay for the weekend, or head out there for the day and rent some e-bikes to see the island – Antelope e-Bikes is conveniently located right at the end of the causeway to get you the right kind of e-bike for your adventure!
13. Pick your pumpkin at a pumpkin patch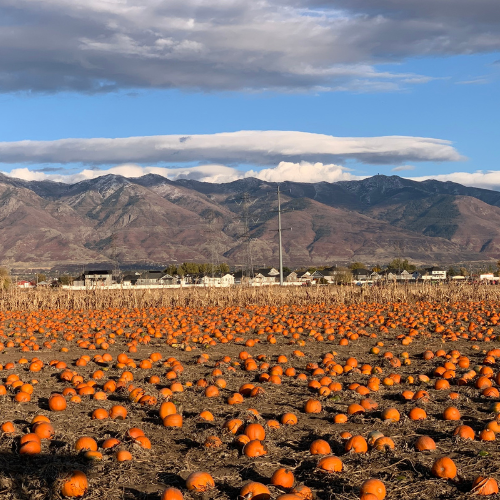 Grab your gourd at Day Farms or Pack Farms. This is a mellow fall activity that we love and is wonderful for the whole family. Pack Farms has other fun activities you can enjoy before finalizing your pumpkin purchases, including a very fun game called Gaga Ball.
14. ATV Farmington Canyon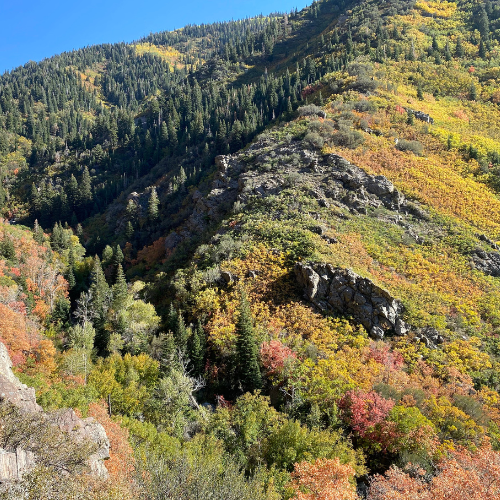 If you don't wanna hike, we get it. Rent an ATV and adventure up Farmington Canyon for some leaf peeping. Or if you have younger kids and want to stay in the safety of your car then just drive up. Be careful on this steep, dirt road and be cautious of others around those sharp turns.
15. Indulge in some fall treats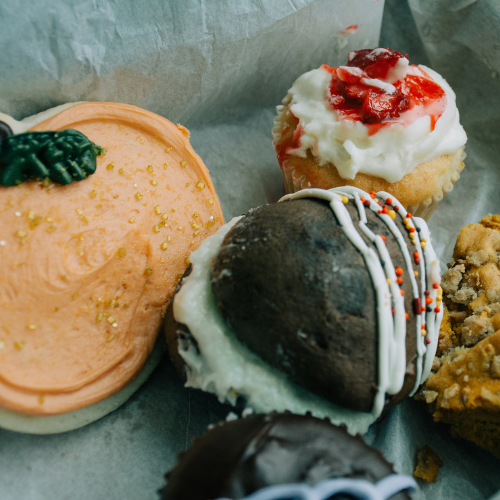 The ultimate fall taste-off is on! This is by far the easiest fall bucket list item to check off: get a fall treat and join our debate: Apple-cinnamon vs. pumpkin spice?
Some of our favorites include a pumpkin pie shake at Burger Stop, cinnamon apple muffins from Old Grist Mill, and a spooky-shaped sugar cookie from Parson's Bakery. If you're gluten-free, Sweet Cake Bake Shop is the place to go (pictured above)!
16. Go to Frightmares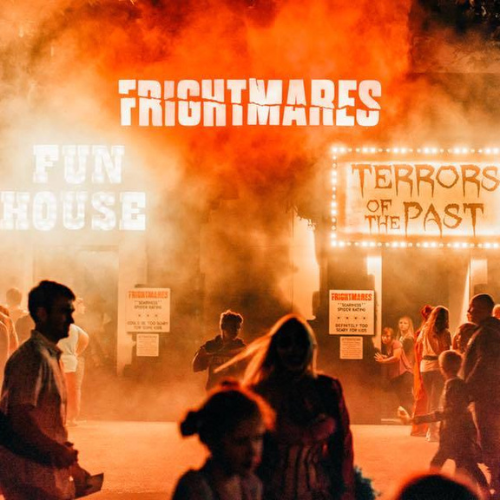 Frightmares has all of your favorite foods, rides and games but adds in over 9 haunted attractions and Halloween-themed entertainment. There is something for everyone, and if you're not sure, check out their ratings: kid-friendly, parental guidance suggested, and too scary for most kids. Lagoon takes it another step further and offers a "no scare glow stick" to signal to the ghoulish to keep away. Pick the attractions that are right for you and your family and have a great time during Lagoon's remaining season through October 30th.
17. Fall shopping spree at Station Park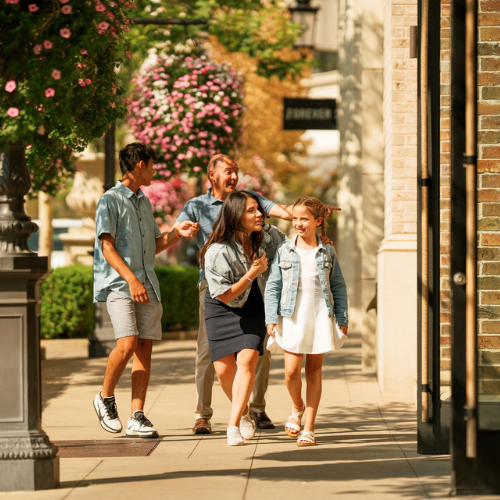 As if we really need an excuse to go shopping, we love the permission that fall time gives us to justify our shopping sprees…holidays are coming up and people need gifts, right?! Whether you stay the weekend or a day, Station Park has shops for everyone, as well as gourmet restaurants, a world-class fountain with water shows on the hour every hour, and a movie theater. They even have a nail salon and spa so you can refresh your mani and/or pedi for the season! Those glittery spider webs and pumpkins aren't gonna paint themselves!
18. Visit the BDAC Art Gallery
Turn this outing into an afternoon spent meandering down Bountiful Main Street, fallen leaves crunching underneath your boots. Stop in at Blacksmith Ice Cream, because hey, it's not winter yet, or grab a pumpkin-spice latte at Split Leaf Coffee (or both!). Mingle through locally owned shops and enjoy a beautiful fall afternoon. Top that off with a tour of art exhibits at the Bountiful Davis Art Center – a bonus about this gallery is that you can find a little doggy named Rex and hold her as she accompanies you through the exhibits. What's better than tiny dog snuggles and art?
19. Escape the Ghost Hotel at Great Room Escape
If you're looking for some soft scares and a fun, challenging experience, try the Ghost Hotel escape room at the Great Room Escape. If you do want to scare yourself to tears, try The Cabin instead – see below. For most of their escape rooms, you can have a team of 8 max, and a minimum of 4.
Bonus: Only if you dare, the ultimate scare challenge
You have a few options…if you really wanna scare yourself that badly.
Frightmares at Lagoon: Seance or Nightwalk
Conjuring spirits is always scary and a little reckless, as is walking with demons, ghouls and possibly the devil himself. Seance does have an added fee, but Nightwalk is included with your admission ticket!
To be featured in Ghost Adventures, you've gotta have a reputation. Whether or not you believe, this experience is sure to give you big scares.
It's scary. Like, really scary. It's also the most difficult escape room at this location!
Want to keep track of your progress? You can download our Fall Bucket List checklist below!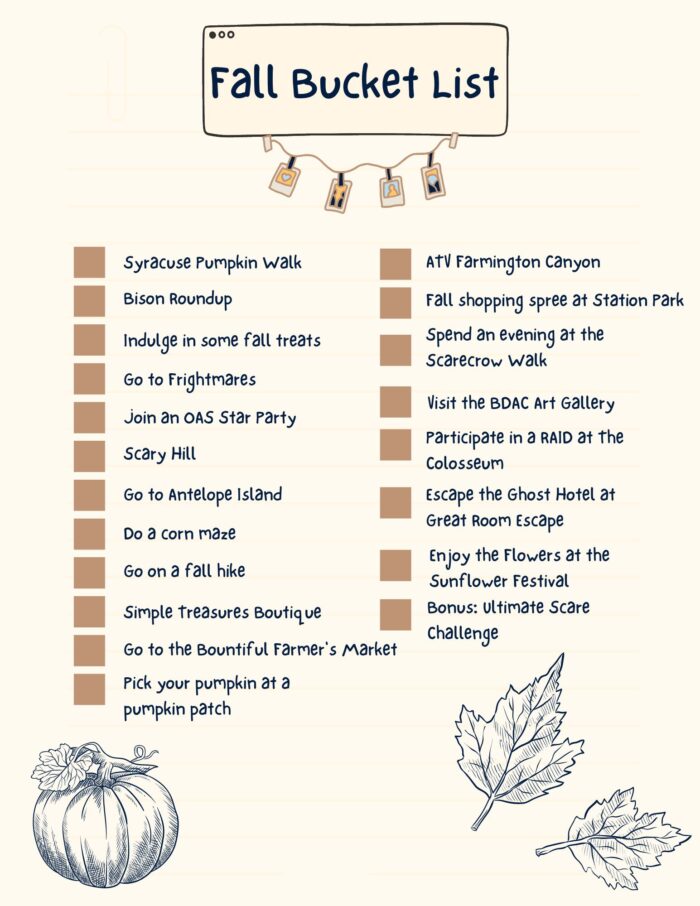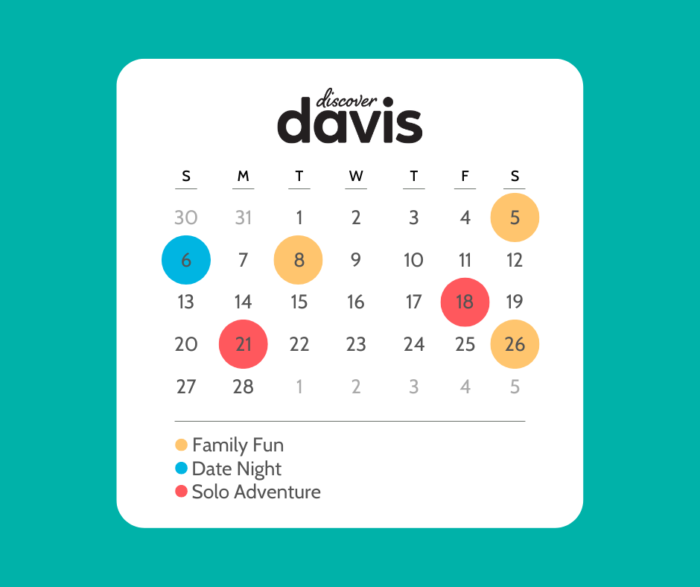 Fun All Month Long
There is always more to do in Davis! Check out our events blog to find out what's happening this month!
Plan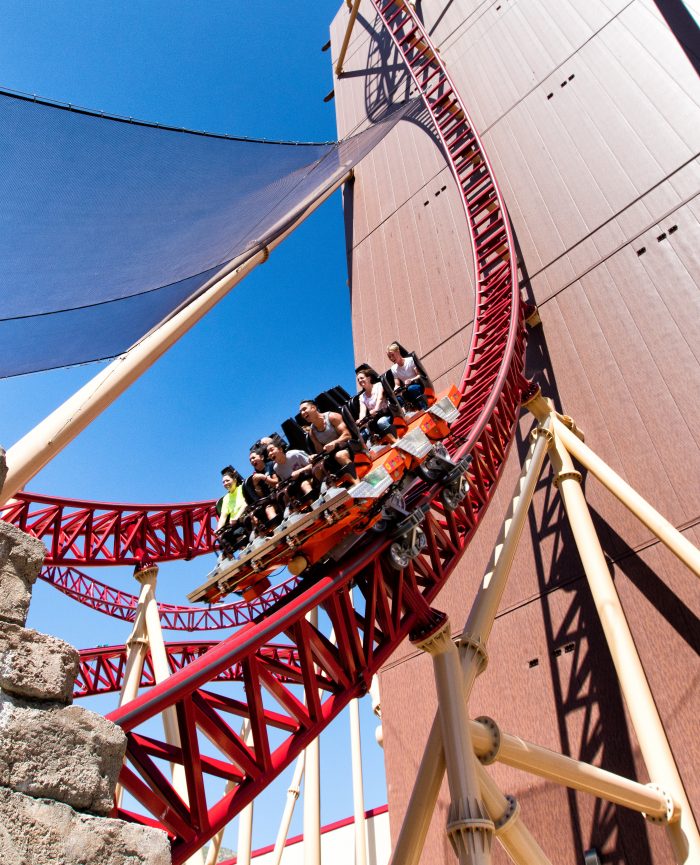 Every Type of Fun
Indoors, outdoors….either way, amusement is calling and we have options for everyone!
Play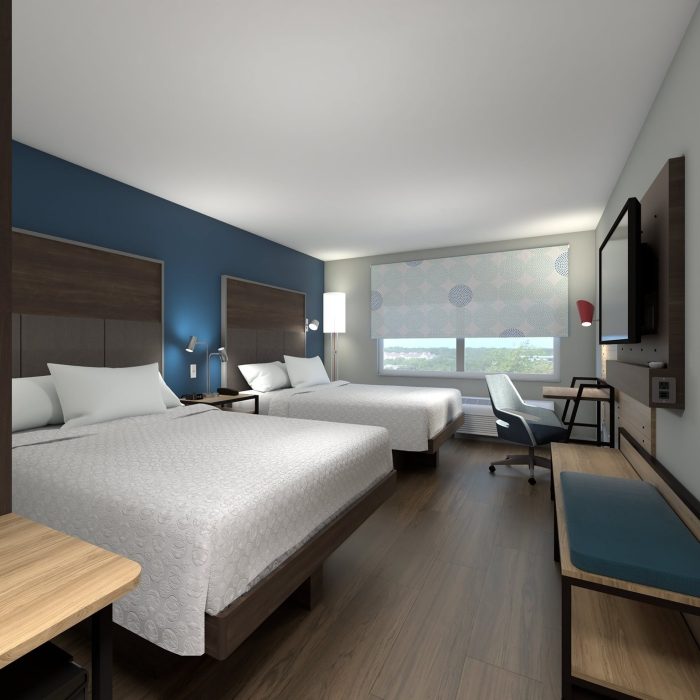 Find a Place to Stay
Want to stay longer? We don't blame you! Find a nice hotel or the perfect camp or RV spot for your stay.
Stay