4 October 2022
Antelope Island's Bison Roundup: An Authentic Western Experience
by Discover Davis
Howdy y'all! It's that time of year again…the Bison Roundup! This authentic Western experience can be had at Antelope Island State Park as hundreds of horseback riders round up nearly 700 bison from around the island. This is truly a spectacle for any to witness!
The Roundup ensures the continued health of one of the nation's largest and oldest public bison herds and occurs in two phases. First, the bison are moved into the holding corrals, and during the second phase, they receive health screenings and vaccinations. This true western experience can be viewed for free by the public (minus park entrance fees).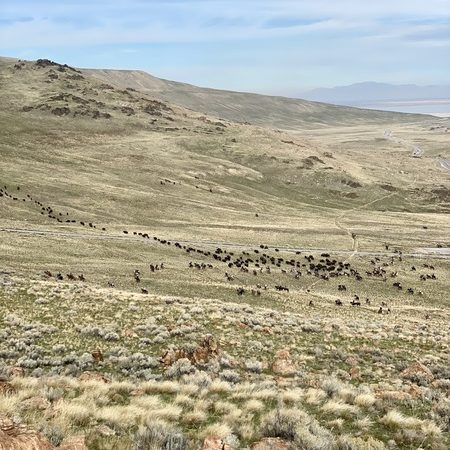 2022 Event Information
Riders will begin at the Fielding Garr Ranch at 9:00 am and move the herd north and over the ridgeline to the corrals at White Rock Bay. You can watch the event at several viewing areas around the island, such as along the east side road, or you can join the viewing party at White Rock Bay.
There will be food to purchase (cash only), educational information, and activities near the corrals at White Rock Bay, this is where the final push of the bison into the corrals will be (usually between noon and 3 pm). This is a crowd favorite. Visitors are encouraged to bring lawn chairs or blankets for seating. Pro tip: Bring binoculars if you have them.
When: Saturday, October 29
Interested in channeling your inner cowboy and riding? Find information here.
View a map here.
What Happens After the Roundup?
The bison are left to rest in the corrals for a week. This resting period reduces the animals' stress levels and allows them to relax, making them more cooperative during the second phase called, Working of the Bison (November 1 – 3rd). This is where the bison get their vaccines and health check, and some are selected to go to auction, which will take place on November 9th.
The scientific name for the American plains bison is "bison bison bison"?
Frequently Asked Questions
What time is Antelope Island State Park open?
Antelope Island State Park is open for entry from 6:00 AM to 10:00 PM daily. If you plan on staying longer, the front gate will automatically rise when exiting the park – even if no one is at the ranger station. If no one is available when you arrive, there is a self-pay station upon entering the park.
Camping is available year-round, but reservations are strongly encouraged in order to secure a camping spot.
How to get to Antelope Island?
Access to Antelope Island is only available via the Davis County causeway. Located just 41 minutes from Salt Lake City, and an hour and a half from Ogden – Antelope Island can be reached via W Antelope Island Road. Pay the park fees at the gate before crossing the causeway.
What hotels are near Antelope Island?
If camping isn't in the cards for your trip to Antelope Island, we recommend staying close by in some of the great hotels in Davis County. Check out our hotel's page and receive a discount on your next trip to Davis County!
Want to find other ways to play in Davis County? See below for ways to #discoverdavis. You'll discover that Davis has something for everyone!