28 January 2023
Events and Things to do in Davis County in February
by Discover Davis
Wow, we are already one month into 2023 and it's hard to believe! February brings with it a few holidays we are looking forward to: Valentine's Day, President's Day (hello, 3-day weekend!) and Galentine's Day (whether you observe it or not). We have so many ways to celebrate all the love this month, in addition to love and 3-day weekends, February is an important reminder to celebrate Black History and patronize local black-owned businesses for Black History Month! A quick fact to enjoy: Lagoon was the first amusement park in the nation to de-segregate! We are so proud to be home to Lagoon and that they saw the importance of trailblazing that inclusion earlier on.
Find out more happening around Davis County this February below!
Jump straight to your favorite event:
The Crystal Festival
This fun rock and mineral show will take place over two days and will include fun activities for kids, vendor booths, demonstrators, and artists. So come shop, network, and maybe get out on a guided rock-hounding trip.
Where: Davis Conference Center
When: February 18 & 19 | 10:00 am – 8:00 pm
Price: FREE
Antelope Island
Hike with a Ranger – A Journey through Time
Join us for a hike to Buffalo Point that is both family and leashed-dog friendly. We'll travel back 50,000 years and explore the changes in the landscape along the way. Park entrance fees apply.
Where: Buffalo Point Trailhead | Map
When: February 4 | 1:00 pm
Live Music
DAC Small Stage Series
Join us at the Davis Art Council's Small Stage on the 1st and 3rd Friday of every month (October – April) for a night of free music at the Small Stage Theater. These are free events but seating is limited and is based on a first-come, first-served basis – there will be two shows each night at 6:00 pm or 8:00 pm.
Where: Davis Arts Council Small Stage | Map
When: 1st & 3rd Friday of the month | 6:00 pm & 8:00 pm
Beautiful Dreamer Trio | February 3
"Beautiful Dreamer Trio plays wonderfully delightful music of yesteryear: Popular American Parlor Music. Inspired by the legacy of Stephen Foster, the "Father of American Music" (and taking their name from one of his last compositions), Beautiful Dreamer performs a wide variety of selections that family and friends would gather together in the best room of the home – the Parlor – to enjoy listening and playing: folk songs and dances from ancestral homelands, American folk songs, hymns and spirituals, music from the vaudeville and theater stage, the concert hall and the ballroom, patriotic tunes and marches, and seasonal favorites."
Che Zuro | February 17
"With her guitar slung low, Ché Zuro plays rhythmically & melodically, luring you in with her smooth alto voice and songs that feel familiar! Compared to Aimee Mann, Sheryl Crow, and Melissa Etheridge, if you must compare, Ché's rock band background & time frame are about the same, but her songs, a mix of Beatles and Zeppelin to a Native American beat make her really stand out! She paid her dues as a professional musician touring with her own bands, The Orchids, Trinity St., Population 5, et al, touring/recording with artists such as Charlie Sexton, Berlin, Josie Cotton Band, Dokken, Carmine Appice, The Photos, et al, as well as performing as a solo musician and with her female acoustic duo. Ché has placed a few songs in feature films and has won awards for her songwriting in both the John Lennon Songwriting Contest and the Billboard Songwriting Contest. Among her 7 solo and duo recordings on Youghiogheny River Records, she recently released her record Rivers and Rain, which contains tunes penned about the Pennsylvania neighborhood where she grew up."
Theatre & Art
CenterPoint Legacy Theatre presents She Loves Me
"She Loves Me is a charming, romantic comedy with an endearing innocence and old-world elegance that warms the heart. It is a story of mistaken identity, letter writing, and two feuding perfume clerks who have no idea that they have fallen in love with each other. Based on the Mikos Lazlos play The Parfumerie, which has inspired many adaptations including The Shop Around the Corner and the beloved film You've Got Mail, this lovely musical is a show over which you will all head over heels."
Where: CenterPoint Legacy Theatre
When: January 20 – February 18
On Pitch Performing Arts presents Rodgers & Hammerstein's Cinderella
Where: On Pitch Performing Arts
When: February 3 – February 25
Hopebox Theatre presents The 25th Annual Putnam County Spelling Bee
"An eclectic group of sixth-graders arrives at the 25th Annual Putnam County Spelling Bee, each eager to win for very different reasons. Sweet and shy Olive brings only her best friend (the dictionary) with her to the bee; bold and hyperallergic speller William Barfee uses his "magic foot" to propel him to greatness; former champion Chip is struggling with his burgeoning puberty; easily distracted Leaf is unconvinced that he's smart enough to be a challenger; overachiever Marcy is disappointed by her consistent success; and politically aware Logainne Schwartzandgrubenierre only wants to impress her gay dads. In hilarious, touching, and catchy songs, each speller reveals his/her hopes, struggles, and passions as they make their way through the competition. With an engaging, tuneful score by William Finn and a sweet, funny book by Rachel Sheinkin, The 25th Annual Putnam County Spelling Bee causes audiences to fall in love, both with the show itself and its "perspicacious," "jocular," and "effervescent" spellers."
Where: Hopebox Theatre
When: February 10 – March 4
The Improv-ables
The Improvables perform live, family-friendly improv. Each show is custom-tailored to the audience that night, so you never know what to expect, and neither do they! That's the fun of improv – they take your suggestions and the things you love to create an unforgettable, never-before-seen, one-of-a-kind comedy experience. Shows last 90 minutes and tickets are required.
Where: Bountiful Davis Art Center
When: Fridays | 9:00 pm
Exhibits On Display at the BDAC: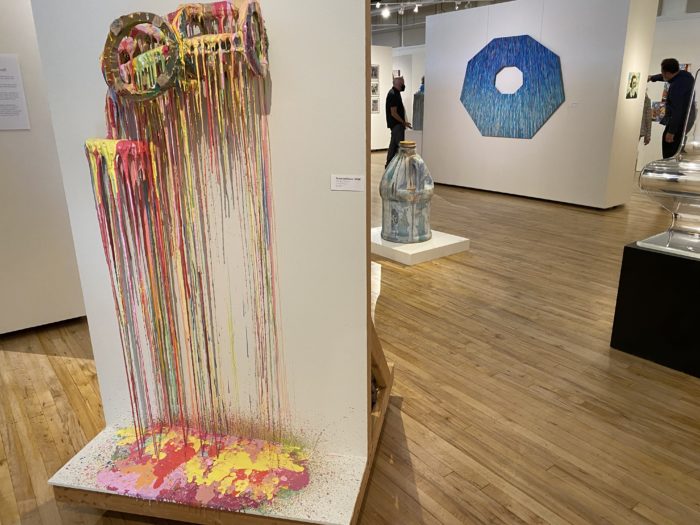 The Adversity Collection by Jon Morgan
Unobserved by David Edward Linn
Self-Evident by Hilary Swingle & Nicole Woodruff
Finding Hope Within the Pain by Javicci
You Could Have Said Something Beautiful Instead by Nicole LaRue
Art Access Partners
Opening Reception: January 13 | 6:00 pm
Where: Bountiful Davis Arts Center
On View: January 13 – February 25
Free Family Art Night
"We'll be taking inspiration from the work of Javicci's exhibition titled Finding Hope within the Pain which is on display in the annex gallery to make assemblage art frames. Each participant will receive a frame to adorn with a variety of found objects. This project is suited to artists of all ages but little ones may want help from an adult. All materials are provided."
Where: Bountiful Davis Art Center
When: February 6 | 6:30 pm – 8:00 pm
Heritage Museum of Layton Lecture: Photograph Preservation and Care
This lecture will be by Skye Cranor, a photo coach, specializing in the digitization and storage of all types of media.
Where: Heritage Museum of Layton
When: February 13 | 6:30 pm
Sweethearts 5K & Cupid's 1K
Sign up for 5K, 10K, Half Marathon or Full Marathon.
Where: South Davis Rec Center | Map
When: February 11 | 9:00 am & 9:45 am
Birding
Wasatch Audubon Society Bird Walks
Bird Walk: Layton Commons Park
Where: Layton Commons Park (Parking lot within the horseshoe)
When: February 1 | 8:30 am
Bird Walk: Great Salt Lake Nature Center
Where: 1157 S Waterfowl Way (110 W Glovers Lane), Farmington (parking lot)
When: February 15 | 8:30 am
Great Salt Lake Audubon – 12th Annual Gullstravaganza
A short presentation followed by several hours of looking for gulls.
Where: Eccles Wildlife Education Center
When: February 11 | 12:30 pm – 4:30 pm
Bald Eagle Viewing Day
Come see America's most iconic bird in the wetlands! Every winter, bald eagles fly south to find food and escape colder conditions farther north, which makes January and February the perfect time to spot these birds. Personnel from the Utah DWR will be there to answer questions and help you spot bald eagles. Free Bald Eagle Month pins will be available while supplies last
Where: Eccles Wildlife Education Center
When: February 18 | 10:00 am – 2:00 pm.
Happy Valentine's Day!
So it's 2023 and Valentine's Day isn't purely for romantic love anymore, it's for celebrating love of all kinds and those people in our lives whose love has changed us, so whether or not you want to celebrate with your special someone, or you want to celebrate your parents, children, friends, or siblings, then why not extend the love holiday for the whole month? And of course, if you aren't familiar with Galentine's Day, it's a day for celebrating the women or 'gals' in your life and it has quickly become one of our favorite holidays because we don't need any extra incentive for a fabulous brunch and/or spa day with our besties. We love love…we're all about finding perfect date night spots, fun date nights with the kids, dates with ourselves, and expressing love for the outdoors, the arts, wildlife, coffee and food, and dare I say, even running. The love of amusement and fun is what we're all about here in Davis and no matter who you choose to celebrate with, the celebrations can go on all month and we have a lot of options for you, for your partner, for your family, and for your furry friends no matter what love language you speak. Plus, nothing promotes strong relational bonds than trying something new together, maybe this month you try something you've always wanted to, like petting a sloth at Seaquest, dressing up and going rollerskating, or taking an art or cooking class.
Layton City Valentine's Dance
Join Family Recreation at the annual Valentine's Dance. The dance will include a live band, refreshments, and prize giveaways. Admission is free.
Where: Central Davis Jr. High Gym | Layton
When: February 10 | 6:30 pm – 8:30 pm
Valentine's Dinner
Spend your Valentine's dinner at the Davis Conference Center and enjoy not just a delicious dinner but live entertainment, a photo booth, and if you make a reservation with other couples, enjoy custom table seating for your party. Call (801) 416-4101 to reserve your spot today!
Where: Davis Conference Center
When: February 14 | 6:00 pm – 9:00 pm
Valentine's Day Skate Night
Take your date skating and show off those moves! Skating pairs receive free skate rentals. This deal is valid at both the Bountiful Ice Ribbon and the South Davis Rec Center.
Where: Bountiful Ice Ribbon & South Davis Recreation Center
When: February 14
Valentine Specials:
Twig's Bistro & Martini Bar
Weller's Bistro
Waffled
Caffe Torino
Lagoon Biergarten
Grab a local treat:
Mrs. Cavanaugh's
Lisa's Passion for Popcorn
Blue Moose
Nothing Bundt Cakes
Twisted Sugar
Parson's Bakery
Sweet Cake Bake Shop
Shred the Slopes
We have had some robust storms this season! Enjoy the best snow on earth, whether you stick to groomers or like black diamonds, there are options for the whole family! In Davis, we are surrounded by world-class resorts (9 to be exact!), so that makes Davis your perfect base camp for a ski vacation. If you're looking to hit Snowbasin Resort, you can rest easy with transportation needs and catch a lift on the UTA Route 677 ski service bus. Find Your Route.
Want to find other ways to play in Davis? See below for ways to #discoverdavis outdoors and indoors!