7 December 2020
Stay Safe this Ski Season on the UTA Ski Bus from Layton to Snowbasin
by ngraf
Ski season is here and we know you're excited to hit the slopes. Thanks to the Utah Transit Authority (UTA), skiers and snowboarders can get from Layton to Snowbasin without having to make the drive. The UTA Ski Bus from Layton to Snowbasin begins running for the season on December 12, 2020.
Ski Bus 677 from Layton
UTA Route 677 runs between the Layton FrontRunner Station and Snowbasin Resort. Regular service begins December 12, 2020, and runs through March 28, 2021. Stops on the route are:
Layton FrontRunner Station
Layton Hills Mall
Davis Conference Center
Woodland Park Drive Hotels
Antelope Drive and Highway 89 Park and Ride Lot
South Weber Park and Ride Lot
Mountain Green Kent Smith Park Bowery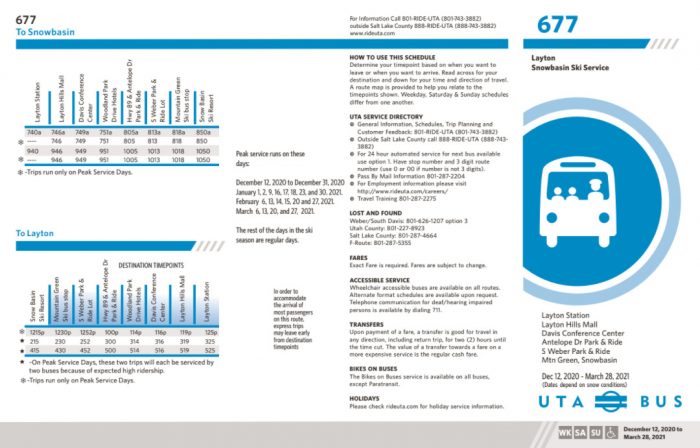 Stay Safe While Skiing This Season
Of course, Snowbasin and UTA's top priority is the safety of skiers and snowboarders during the COVID-19 pandemic. Ski resorts are keeping you safe by creating reservations systems, socially distancing skiers in lines and parking, as well as encouraging people not to carpool and to purchase a UTA Ski Bus season pass for only $10 more with their Snowbasin Season Pass.
UTA is ensuring your safety on the Ski Bus through the following efforts:
Daily sanitizing/cleaning
Limiting passenger loads on buses (watch for bus is full signs)
Driver barriers
Masks required at all times
Hand sanitizer dispensers
Contactless fare payment
Socially distanced lines at key stops
They can't do this alone, so please follow these simple safety guidelines:
Stay 6 feet apart in social distance lines and on the bus
Wear your mask at all times
Keep skis with you instead of ski racks
Use hand sanitizer
Anticipate greater delays on the ski bus due to these safety measures and canyon traffic. However, ridership will be monitored daily and UTA is working closely with the ski resorts to get riders to and from the resorts as effectively as possible.
To minimize delays, take advantage of these suggested low peak days, times, routes and parking:
Best Days of the Week:

Tuesday, Wednesday, Thursday
Avoid holidays and weekends

Best Times of Day:
Best Bus Routes & Parking from Davis:

677 – Layton to Snowbasin
Layton Hills Mall, 1201 N Hill Field Rd

Cost to Ride

$10 more with Snowbasin Mountain Season Pass
$10 round-trip without season pass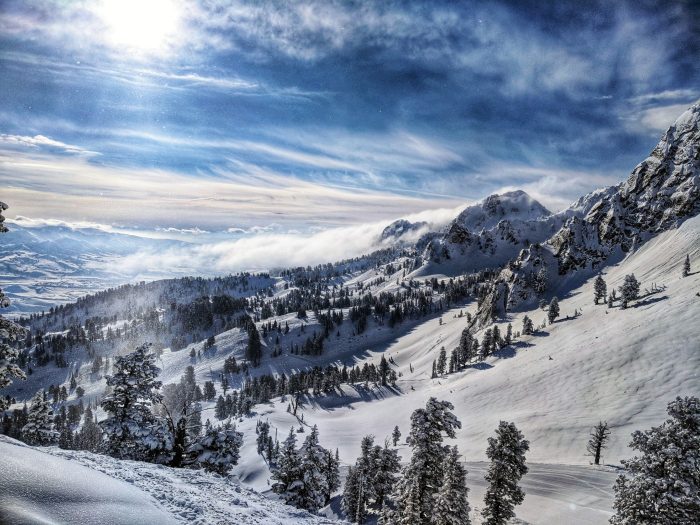 With nine world-class ski resorts located within 30 to 60 minutes, Davis County is the perfect basecamp for your winter getaway. We hope you enjoy your 2020/2021 ski season and encourage you to download the Transit App to plan your trip today.