21 February 2018
3 Best BBQ Spots in Davis County
by Discover Davis
It takes a lot of time, spices, sauces, smokin', grillin', and love to make great BBQ! We're going to tell you where to find just that, in Davis County, Utah. And we're proud to say that all these phenomenal BBQ spots are locally owned and operated.
Smokin' Bones BBQ
This locally owned family business has been serving up Texas-style BBQ, that's smoked onsite daily, since 2013. When we say family business, we mean it, most of the day-to-day employees are family members to owner Kile Kearns, working their hearts out and putting their love for BBQ into the food. They slow smoke their meats at 250 degrees to give you tender and flavorful BBQ that you never expected to find in Utah. If you like a hearty challenge, try their Steak Burger – with patties made from beef chuck, top sirloin, and beef brisket, plus pulled pork and cheese contained in toasted buns – with a double, triple, or quad patty option!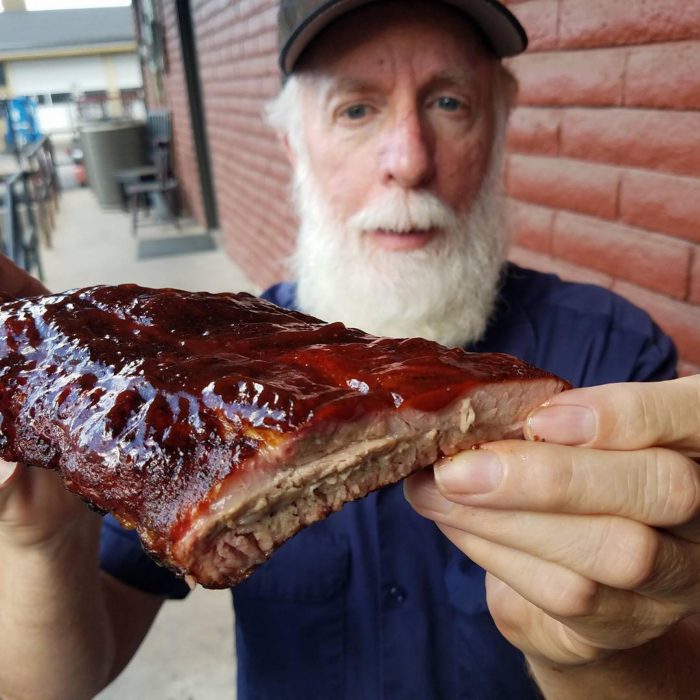 Smokin' Bones has been featured on the Travel Channel's BBQ Crawl, awarded by local news outlets, and it's clear that locals love them because their restaurant is consistently full and sells out nearly every day. Watch the BBQ Crawl episode they're in below:
Dine at Smokin' Bones:
364 S 200 W, Bountiful, Utah 84010
Tuesday – Thursday: 11 am to 8 pm
Friday – Saturday: 11 am to 9 pm
Sunday – Monday: CLOSED
---
R&R BBQ
R&R is new to Davis County, an addition to Farmington's Station Park, but they've had the title of Grand Champion of BBQ in Utah since 2012. Named after brothers and co-owners Rod & Roger, they cook up barbeque the way they were taught, it's downright slow. Their mom taught them, "If you're going to do something, you do it right or you don't do it at all." Their Dad was a meat cutter and taught them when you take shortcuts, you get lost. So R&R doesn't do fast food, only good food. We're excited to have their quality barbeque restaurant in Davis County!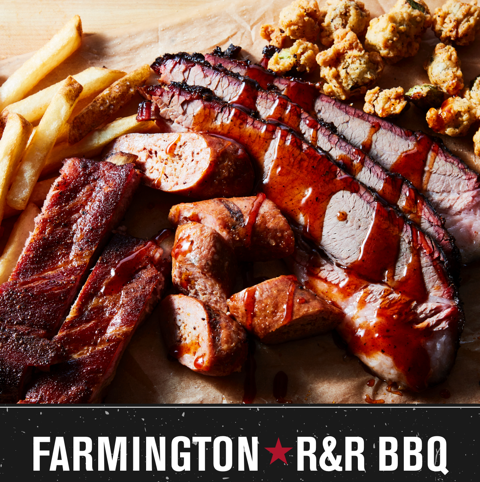 Learn more about their story in the video below:
Dine at R&R BBQ in Davis County:
(Near Cabela's at Station Park) 436 North Cabela's Drive, Suite 102, Farmington, UT 84025
Additional R&R Locations
Monday – Friday: 11 am to 9 pm
Saturday: 11am to 10pm
Sunday: CLOSED
---
Holy Smoke BBQ
Holy Smoke BBQ owner Jeff spends his time slow-smoking pork, chicken, and beef to satisfy visitors and locals in Layton, Utah. There's a distinct Western cowboy theme to their restaurant – decked out with lots of Western paraphernalia like rifles, pistols, branding irons, saddles, and such. Their atmosphere is often livened by Ophir Creek, a Bluegrass / Folk / Americana band, check Holy Smoke's Facebook page to find out when they're playing there.
Holy Smoke's menu represents a range of American barbeque with large portions and many side options. It's all delicious, especially with Holy Smoke's wide array of house-made barbecue sauces.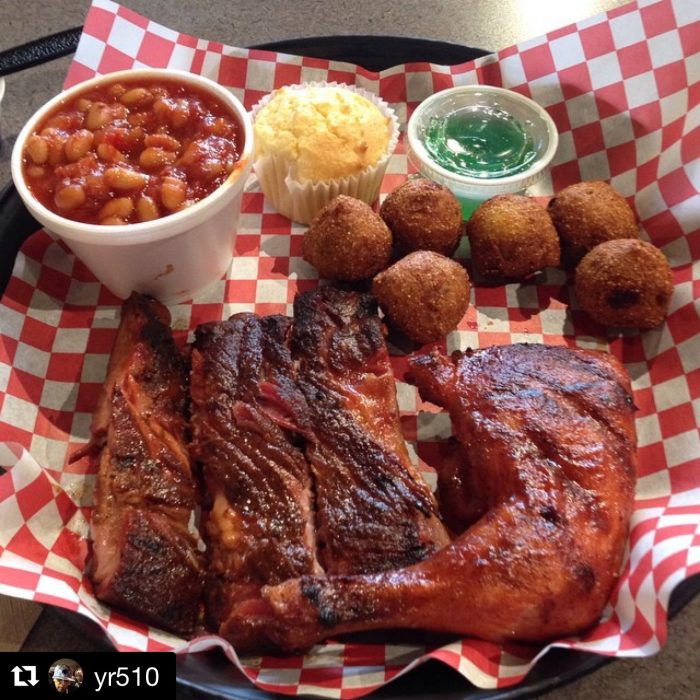 Dine at Holy Smoke BBQ:
(Near Davis Conference Center) 855 Heritage Park Blvd, Layton, UT 84041
Monday – Thursday: 10:30 am to 8 pm
Friday – Saturday: 10:30am to 10pm
Sunday: CLOSED
---
We hope you enjoy dining at these local Utah BBQ gems in Davis County. Share your foodgrams with us by using #EatInDavis.