19 June 2017
A Unique Utah Bike Ride
by Discover Davis
The Antelope by Moonlight Bike Ride offers experiences like no other bike ride around. It's coming up on July 7th, 2017 on Antelope Island State Park. Let us share with you why it's so unique and a must-ride this summer.
There's a pre-party and a chance to win a bike!
The party starts at 7:30 p.m. Everyone is welcome to dress up or decorate your bike for a chance to win a bike from Biker's Edge. Judging is at 9:00 p.m. at White Rock Bay. Every year there's a theme, that some choose to match for their costume or bike decorating. This year's theme is Dark Side of the Moon, so you're sure to see a lot of Pink Floyd inspired outfits. Classic Pink Floyd tunes will be playing for you to jam to.
The ride is at night, under the stars and moonlight.
Once the sun has set and stars come out, the bike ride starts at 10 p.m. when everyone takes off on their glow-stick-decorated bikes. You must take the opportunity to look up at the night-sky, because Antelope Island is an International Dark-Sky Park, meaning it's far enough from light pollution that the stars shine much brighter than in the surrounding cities. And since this is a non-competitive ride, you are welcome to break to stargaze if you please.
The ride takes place in an awesome State Park.

Not only will you be surrounded by fun-spirited riders, under beautiful stars and the glowing moon, but the ride is on Antelope Island State Park. This park is known for it's hundreds of antelope, bison, birds and more, so you may get to add the excitement of encountering wildlife during your bike ride. You will also get to experience the Historic Fielding Garr Ranch during your half-way point pit-stop. There's so much history and beauty to enjoy there. Plus, refreshments are provided so you can refuel.
Being active is cool, and this ride makes it very fun and easy, so join the cool kids.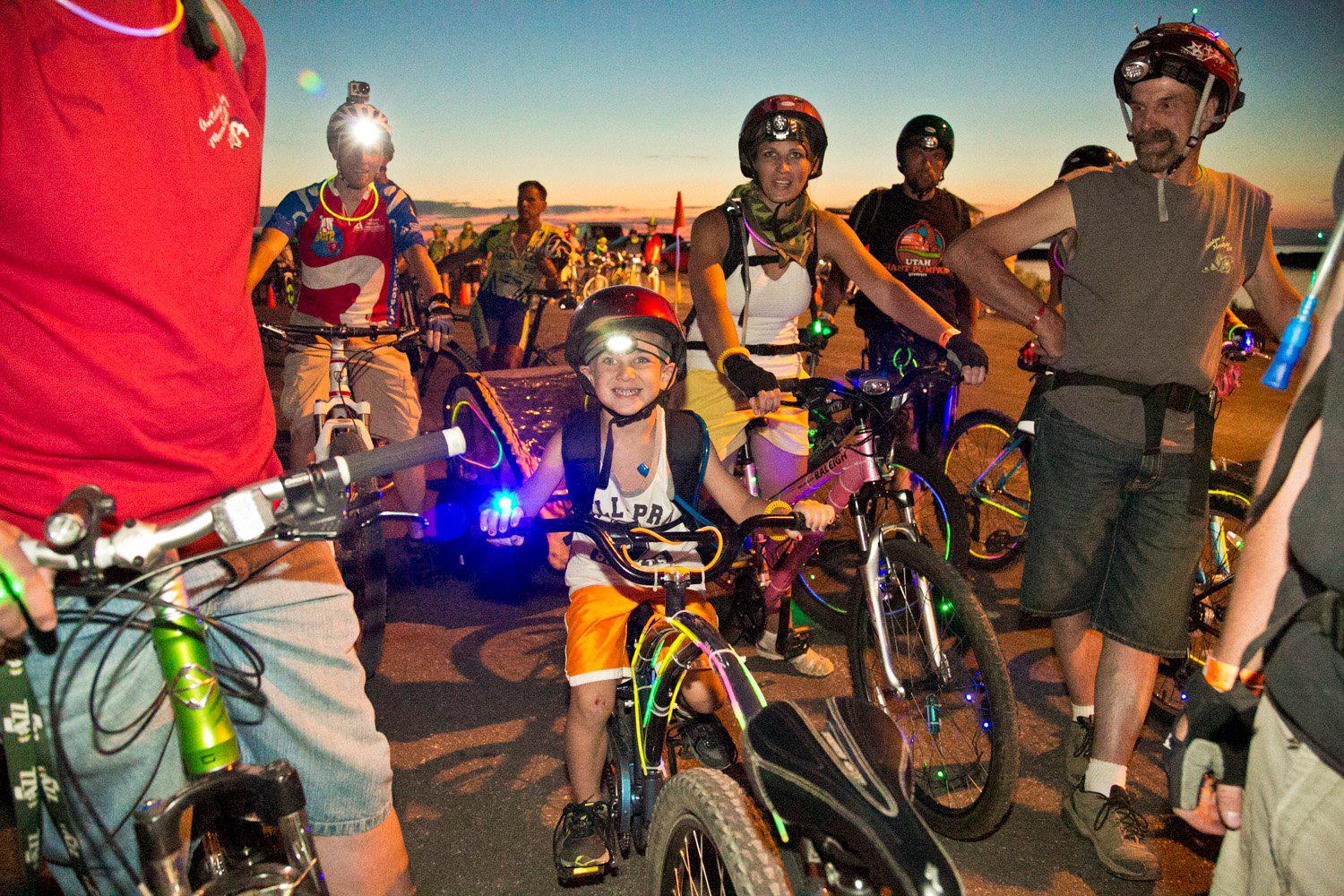 Twelve miles to the ranch and 12 miles back, that's very doable. Kids have done this every year and conquered it. This is not a competitive bike ride, so everyone can go at the pace they're comfortable with.
By riding in Antelope by Moonlight, you are giving back to the state park.
Proceeds of the bike ride go to Friends of Antelope Island, which is a nonprofit volunteer organization formed to enhance interpretative, educational, recreational and research programs at Antelope Island State Park. Help 'Friends' enhance the programming on the state park, simply by having a blast in the bike ride.
---
Registration Fees: $25 per person before June 28 at 8 a.m. (includes T-shirt, park entry, refreshments served until midnight)
$35 per person until July 7th at 8 a.m. (T-shirt not guaranteed)
---
Hear for yourself how unique the bike ride is from attendees: