30 January 2020
Fun in Davis County: SeaQuest Interactive Aquarium
by Discover Davis
If you're a Davis County local, then you'll know that SeaQuest Interactive Aquarium is one of the best family activities in the County. SeaQuest is an interactive aquarium that offers experiences you won't get anywhere else in the state. Their motto is, "If you can reach it, you can touch it" making for a unique petting zoo meets aquarium experience.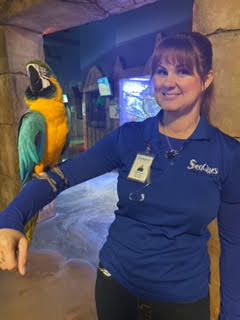 Melissa Crutchfield, General Manager of SeaQuest Utah, who has been with the aquarium since they opened in November 2016 says, "My favorite thing about working at SeaQuest is getting to inspire people to learn about animals from all over the world through touch and exploration."
Location
You don't have to go to the coast to hang out with stingrays and sharks. SeaQuest is located in Layton Hills Mall, which means you'll also have convenient access to tons of nearby restaurants, shops, and even more family activities.
Once In A Lifetime Experiences Everyday
Want to swim with stingrays? No problem! Not only will you have an awesome time walking through the aquarium and interacting with the animals, but there are also tons of additional add on experiences that truly set SeaQuest apart. Dive into their 45,000-gallon fish tank to snorkel with stingrays, coastal sharks, and hundreds of tropical fish. Or, if you prefer to just get your toes wet, visit their fish spa to be treated by doctor fish. These tiny, toothless fish will nibble at your toes and give you the best (but most ticklish!) pedicure you've ever had. You can also experience the rare opportunity of hanging out with a sloth, playing with otters, or holding a kinkajou.
Melissa agrees that these add-ons are something worth experiencing. "In my opinion, the best part of the SeaQuest experience is the animal interactions. It does not matter which one you pick. Where else in Utah are you going to be able to swim with the stingrays or snuggle a kinkajou?"
But when it comes to her favorite animal co-worker, Melissa says, "It's hard to pick which animal is my favorite animal at SeaQuest. We have so many awesome ones to pick from. I guess it would be Honey our kinkajou or Apollo our 13-foot reticulated python. I like Honey because he is so playful and inquisitive. He will climb all over me and I love it. I like Apollo because he's so calm and easy-going. He just kind of hangs on like a backpack. They both love to meet new people!"
Admission
Admission prices for SeaQuest are as followed and with a little bit of planning, you can save by purchasing in advance online!
Ages 12+, Regularly $16.95 – Only $14.88 online
Ages 2-11, Regularly $10.95 – Only $8.88 online
55+ / Military / Students, Regularly $13.95 – Only $11.88 online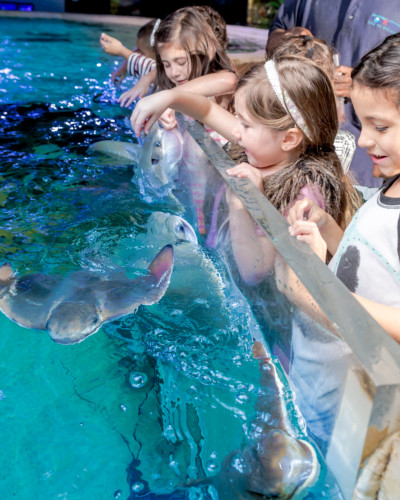 There are tons of different ways you can save on admission with other discounts available such as 50% off single-day passports for America First Credit Union members. SeaQuest also offers monthly, yearly, and even lifetime passes that make it easy on you and your budget to frequently visit!
SeaQuest Interactive Aquarium is truly like none other, giving you more interaction, freedom, and experiences than any other aquarium in Utah. A gem of Davis County and sure to be your family's favorite pastime! Melissa recommends visiting SeaQuest "Monday through Thursday evenings. These are our "slower days" where we can give you even more one on one experiences."