14 October 2021
Discover Trails in Davis: Farmington Creek Trail – Lagoon Section
by Discover Davis
---
The Lagoon Trail section of the Farmington Creek Trail is a 2.8-mile, out-and-back hike to Farmington Pond that follows the perimeter of Lagoon Amusement Park.
This paved, city trail has little elevation gain which makes it great for quick strolls with the whole family. Along the route, there are several picnic tables and garbage bins which makes it great for little stops with coffee or a picnic lunch, this route also passes a part of the Wild Kingdom Zoo and you'll likely see Elk and Bison relaxing in their enclosures. This is a popular trail for bikers, runners, and a great photo spot so you'll likely encounter a photoshoot along the way.
This trail takes you by the bison and elk enclosures of Lagoon's Wild Kingdom Zoo.
---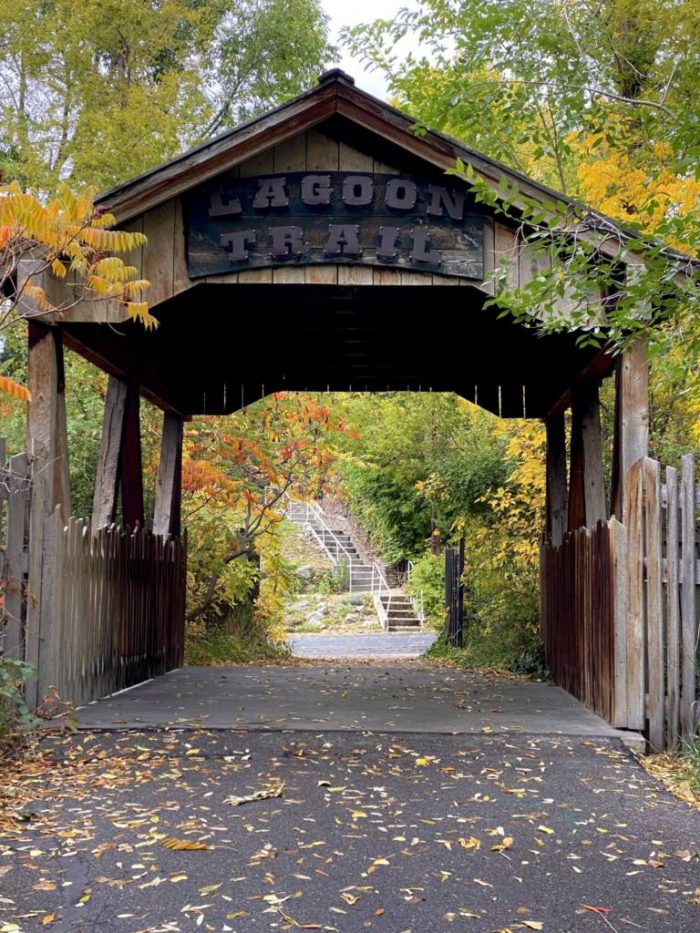 Trail Information
Difficulty: Easy
Distance: 2.8-miles
Elevation Gain: 249 feet
Time: 30 min – 1 hr
Trail Type: Paved, out-and-back
Fees: None
Dogs: Allowed
Parking: Parking lot at Ezra T. Clark Park
Restroom: None
Trailhead Coordinates: 40.980827, -111.896492
This trail is in Farmington and follows the southern and eastern perimeter of Lagoon Amusement Park, including a section of the Wild Kingdom Zoo. A small parking lot at Ezra T. Clark Park is a good starting point for this hike and you'll cross the road and see a small paved trail before hitting Lagoon and the campground. The trailhead is not clearly marked, but it is paved which makes finding it and following it fairly easy until Farmington Pond where you can sit and take in the beautiful scenery. AllTrails will take you up a little further, but we like this stopping point. This trail is fairly flat and your biggest elevation climb is the last section to get up to the pond.
The leaves are beautiful here during fall and you'll have more peace and quiet when Lagoon is no longer operating on weekdays, but if you're walking there on the weekend while Lagoon is operating (or during the summer months) then you'll get the lovely serenade of coaster operations and the distant whoops of patrons. As always, be careful of wildlife, even on this city trail, and do not approach the enclosed animals in Lagoon's Wild Kingdom Zoo. There are signs, but they need their rest too!
This bench was carved into a fallen tree and is worth a sit and is a great photo op!
---
Are you ready to hit the trail?
---
Need a little more help?
---