2 November 2021
Discover Trails in Davis: Great Salt Lake Shorelands Preserve
by Discover Davis
---
The Great Salt Lake Shorelands Preserve is a 1.3-mile loop through wetland habitat along the eastern shore of the Great Salt Lake in Layton, Utah.
This boardwalk trail has little elevation gain which makes it great for quick strolls with the whole family. Located between Farmington Bay Waterfowl Management Area and the Antelope Island Causeway, this preserve is one of the western hemisphere's most important stopovers for migrating birds. Along the route, there are several educational opportunities to learn about the ecosystem that thrives in the Great Salt Lake and why its preservation is essential for migratory birds. This trail is a peaceful, non-strenuous walk that is teeming with life, you'll likely see several birds and be quite taken with the unassuming beauty of wetland reeds and cattails, especially if you go near sundown to catch a spectacular sunset.
Between four and six million birds visit, feed, and nest at the Great Salt Lake annually.
---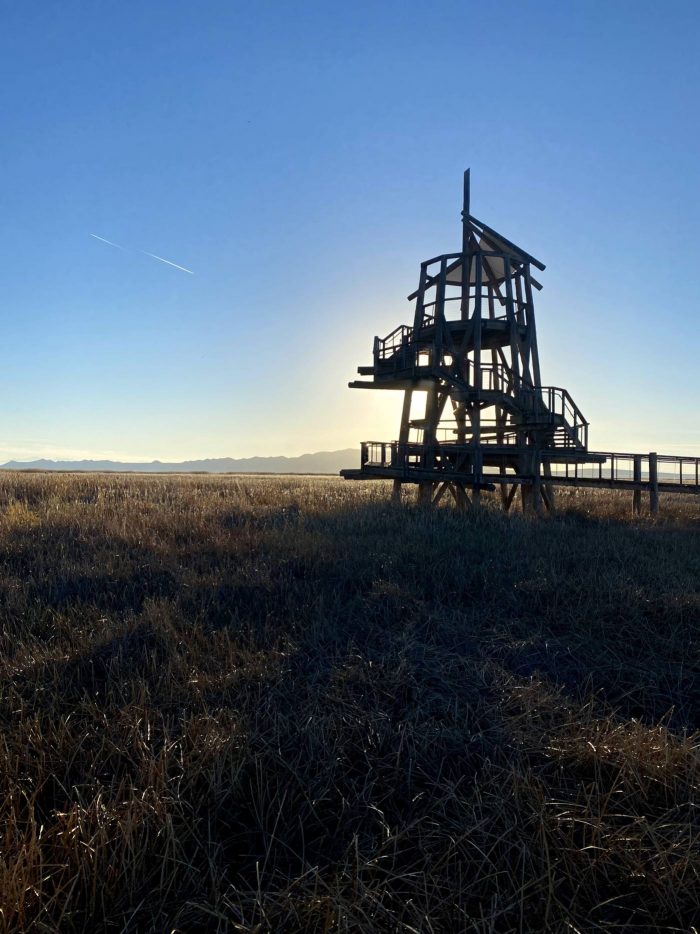 Trail Information
Difficulty: Easy
Distance: 1.3-miles
Elevation Gain: 6 feet
Time: 30 min – 1 hr
Trail Type: Boardwalk loop
Fees: None
Dogs: Not allowed
Parking: Yes / Parking lot
Restroom: Yes / Port-a-potty in parking lot
Trailhead Coordinates: 40.980827, -111.896492
The boardwalk trail takes you on a 1.3-mile loop through the preserve with several educational opportunities throughout, including bird species along the boardwalk, exhibits, an observational tower, and even an audio tour. Everything is marked and easy to follow on the boardwalk. According to other recreators, this trail is very kid-friendly, stroller-friendly, and even wheelchair accessible. The pavilion is a great spot to sit, relax, and take in the views (especially at sunset). We recommend bringing binoculars for bird spotting, which you'll likely see at least one, and having bug spray on hand.
The wetlands of the Great Salt Lake provide important nesting and foraging habitat for over 250 species of birds and the lake is a critical link in the Pacific Flyway between North and South America. Between four and six million birds visit, feed, and nest at the lake and its wetland annually. The preserve spans 4,400 acres of wetland habitat along the eastern edge of the Great Salt Lake, a unique Utah natural treasure (The Nature Conservancy). This is the first of the Nature Conservancy's preserves in Utah (formerly the Layton Wetlands Preserve).
This pavilion is at the heart of the Shorelands Preserve.
---
Are you ready to hit the trail?
---
Need a little more help?
---