28 September 2021
Discover Trails in Davis: Farmington Creek Trail – Upper Canyon Section
by Discover Davis
---
The Upper Canyon section of the Farmington Creek Trail is a 3.1-mile, out-and-back hike into Farmington Canyon.
You can always start this hike lower down for a longer hike, but, starting at the Farmington Canyon Trailhead, you'll have an easier, shorter hike (just the Upper Canyon section) that is all beautiful views without much strain or elevation gain which makes it a great hike for families or an easier one for experienced hikers. You'll more likely than not experience some issues with parking because of this canyon's popularity, but early morning or later afternoon, you're more likely to get lucky with a spot, or you might not have any choice but to start your hike farther back down the canyon where you can park.
There is a rappel required for the descent to the waterfall!
---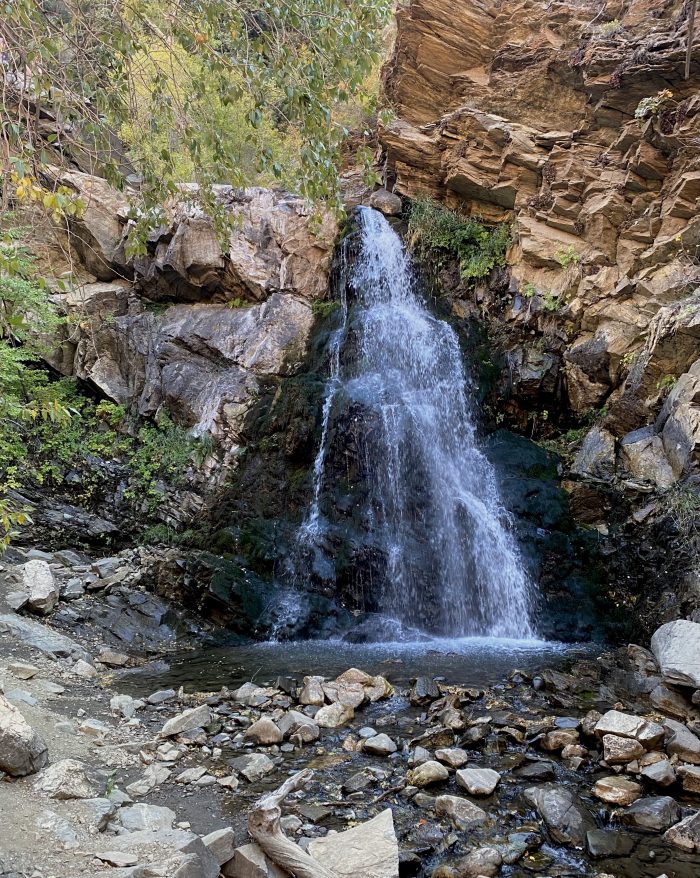 Trail Information
Difficulty: Easy – Moderate
Distance: 3.1-miles
Elevation Gain: 889 feet
Time: 2-3 hours
Trail Type: Dirt, gravel, rock
Fees: None
Dogs: Allowed
Parking: Dirt parking lot at trailhead
Restroom: None
Trailhead Coordinates: 41.000445, -111.866243
This trail is in Farmington and is located up Farmington Canyon, which is a highly trafficked outdoor play place for just about everyone (mountain bikers, OHV-ers, scenic drivers, and hikers). It is easy to find but a little difficult to manage the number of cars and OHVs you'll encounter coming down the canyon and tailgating you up the canyon in a plume of dust. Due to its popularity, there are plenty of cars that make navigating this winding, narrow dirt canyon road a little sketchy so be careful on the road, go slowly, and pay attention. Not only are other cars and blind turns a hazard, but there is a danger for flat tires as well. Follow the Farmington Canyon Road/Skyline Drive which eventually turns from pavement to dirt and once you cross into the Wasatch-Cache National Forest, it's a short drive to the trailhead which you could probably find without Google, just wait until you see a lot of parked cars in a dirt lot and along the roadsides at an abrupt switchback.
This is an incredible hike to do when fall colors are in full swing, especially if you like to hike through glowing yellow and orange corridors that make you feel like you're getting a hug from the autumnal mother of nature herself. If you do go in fall, just be prepared to add on another hour or two to your hike to take it all in and of course get tons of pictures that you can tell your friends later, "These don't do it justice, it was so beautiful!" This canyon has beautiful geographical features and history, in addition to a small waterfall on the way to the Farmington Creek Waterfall, which requires a fun, but slightly treacherous, rappel down from the trail. Every now and then you'll be able to see travelers on the canyon road high up on the canyon above you, which adds to the experience of being deep in the canyon.
There are several old, crashed cars you can see along the trail.
The trailhead is not marked but is easy to follow with varied trail conditions from rocky to dusty. You'll cross a stream as you near the Farmington Creek Waterfall and this is where you'll see a fork in the trail and you'll want to head right and shortly after you'll reach the descent with a rope to aid you in your rappel. We tried both ways, rappelling down frontwards and backward, and it's easier to go backward slowly. Exercise caution, people have hurt themselves here before.
Have a snack or lunch/dinner at the end and enjoy this incredible landmark, it also has a shallow pool, perfect for a cold water dip, if you're into that kind of thing. A pro tip: pickles make a great trail snack and if you really want to level up your snack game then we recommend a mini charcuterie with salami, cheese, and mini pickles to refuel you for the way back down.
---
Are you ready to hit the trail?
---
Need a little more help?
---