24 April 2023
Family Fun at Cross E Ranch
by Discover Davis
Cross E Ranch is a family-owned farm located just outside of Salt Lake City, Utah. Cross E Ranch is a working farm, but every year they host two festivals that are perfect for families and anyone looking for a fun day out in the fresh air: the Baby Animal Festival and the Fall Festival. Regardless of which festival you are attending, you can play in Ag-venture Alley which includes zip lines, rock climbing, slides and more, and you can indulge in their famous apple cider donuts and farm-fresh food. And just when you think Cross E Ranch can't get any more fun, you realize they also have a Sunflower Festival every September.
What animals do they have at Cross E Ranch?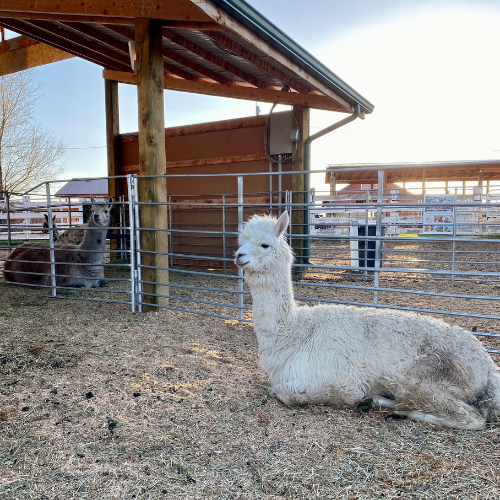 Goats
Chickens
Bunnies
Pigs
Horses
Cows
Llama
Sheep
Alpacas
Mini donkeys
What activities do they have at Cross E Ranch?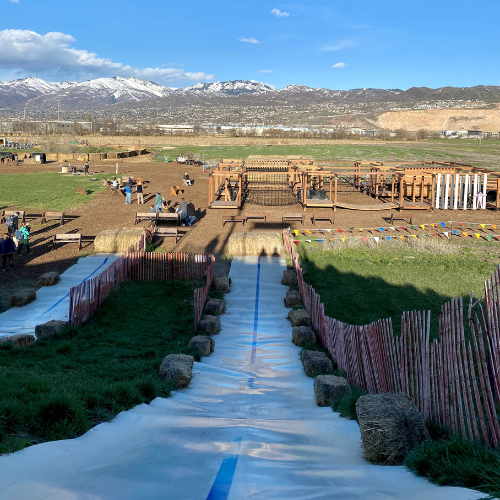 Ag-venture Alley
Mega slides
Jump pads
Zip lines – reach top speed with our fun self-guided 80-foot zipline
Rock Wall
Rat Rollers
Archery shooting range
Hula cows
Kiddie swings
Kiddie jungle gyms
Corn hole
Kiddie Korral – swings, shade structure, teeter-totter
"Tough Farmer" ropes course
Other activities at Cross E Ranch include hayrides, duck races, fire pits, picnic areas, animal shows, photo ops, pony rides (extra cost), and a barrel train (pulled behind a mini tractor this little animal-themed train is fun for kids).
What is NOT included with admission at Cross E Ranch?
Food, merchandise, face painting (weekends only), and pony rides are not included with admission.
---
Cross E Ranch Baby Animal Festival
April 14 – May 20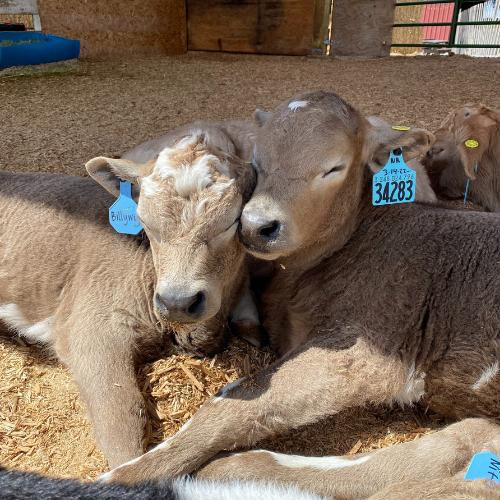 Cross E Ranch Baby Animal Festival Hours
Monday – Friday | 4:00 pm – 8:00 pm
Saturday | 9:30 am – 8:00 pm
Closed Sundays
Baby cows, baby sheep, baby pigs, BABY GOATS. Baby llama! Need we say more? The Baby Animal Festival is typically held in April and May, and it's the perfect opportunity to see and interact with some of the newest and cutest additions to the farm. From playful baby goats and lambs to chicks, calves, and piglets, you'll have the chance to get up close and personal with a variety of adorable baby animals and pet them. The goats are typically the highlight of the festival, they will nibble any spare part of your clothes, shoelaces, hair, and fingers. They might even jump on you! After interacting with animals, you can find hand sanitizer at several stations throughout the ranch, or you can wash with soap and water at their port-a-potty stations. Keep a close eye on your little ones to make sure their hands don't make it to their mouths after touching the animals.
*Bottle feeding this year is not available.
Things to keep in mind when visiting the baby animals:
Don't pick up the baby animals
Patrons are not allowed in the pig enclosure because pigs bite, be wary of petting through the fence as well, and keep little fingers out of mouths
Wash or sanitize hands, especially after petting cows, chicks, and sheep
---
Cross E Ranch Fall Festival
September 23 – October 29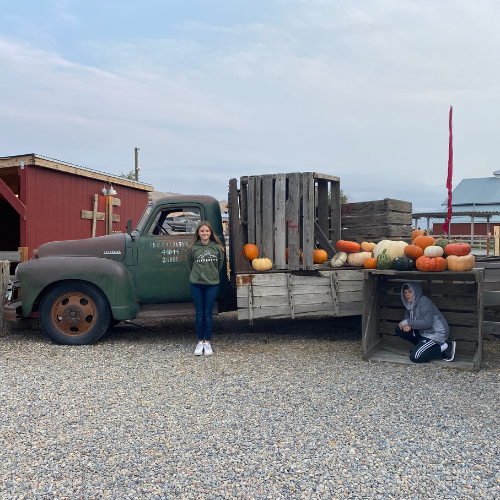 Cross E Ranch Fall Festival Hours
Monday – Thursday | 4:00 pm – 9:00 pm
Fridays | 4:00 pm – 10:00 pm
Saturday | 10:00 am – 10:00 pm
Closed Sundays
The Fall Festival takes place in September and October and is a celebration of all things fall! From pumpkin patches to corn mazes, there's something for everyone at the fall festival.
Cross E Ranch Pumpkin Patch
One of the highlights of the Fall Festival is the pumpkin patch. You can pick your own pumpkin right from the vine and take it home to carve or decorate. They have everything from regular pumpkins to specialty pumpkins that range in color, shape and price! There are also plenty of other fun activities, such as pig races and corn pits.
The Amazing Race – Cross E Ranch Pig Races
The second highlight of the Fall Festival is the pig races! Once you see it, you'll understand how truly fun their pig races are. Each year, they have a theme so teams can be created. Each day they have multiple races so pay attention to the times and head there early to grab a seat in whichever mini-stadium you choose. There are four stadiums surrounding the small race track that are color-coordinated with certain piggies. If you're sitting in the yellow stadium, you'll cheer on your yellow piggie as he races for the finish line! Their themes are fun and one year included generally famous names like Bey-oink-ce, Spider Pig, Captain Ameri-Pork, and all the other greatest piggie puns you can think of! This last fall festival was Hogwarts Houses, but no sorting hat was necessary here, you can sort yourself into which house you'd like to cheer for…even if it's Lord Voldepork.
Cross E Ranch Corn Maze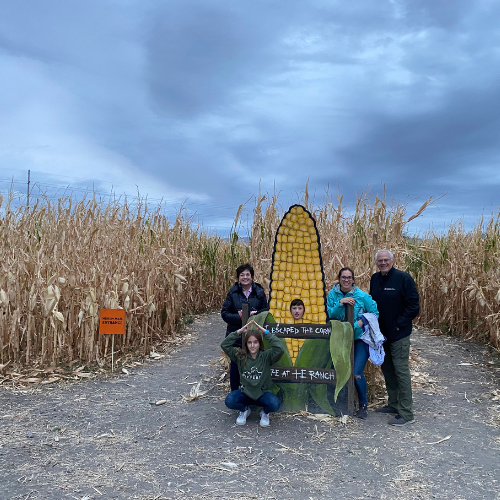 The other highlight? CORN MAZE! Who doesn't love a good corn maze? Each year they try to stay on theme and work hard to create a 3-level corn maze – depending on what difficulty your family feels comfortable with, enter into the Easy, Medium, or Hard. We appreciate these levels because if you've ever been stuck in a corn maze for more than an hour, then you understand it's a commitment with no sure end time. Another thing to note is that they do not haunt their corn maze any time through their fall season.
---
Let's talk about food and treats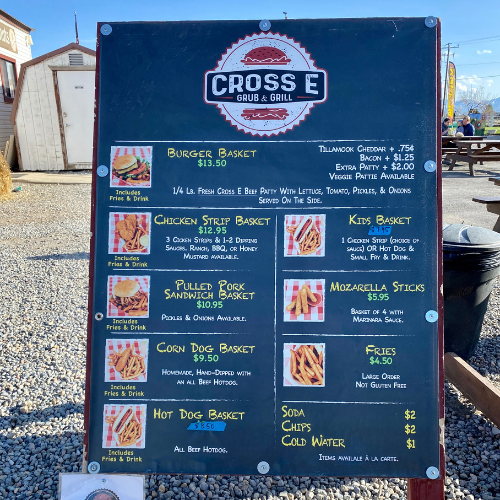 Cross E Ranch has food and treats that are going to be better than anything you'll get anywhere nearby. The Cross E Grill offers ranch-fresh hamburgers, hand-dipped corn dogs, chicken strips, pulled pork sandwiches, fries, and more. They recently added a nacho shop, aka Walking Nachos, where you can get smaller, savory grub that is easy to walk around with and eat, hence the name 'walking nachos.' As delicious as their food is, make sure you save room for dessert because their Apple Cider Donuts are Famous with a capital F. Glazed or sugared or a mix of both, you're gonna wanna save room for a donut, or 6 of them. We won't judge because we've been there before. They're served warm and delicious and often you'll see people walking around with a half or full dozen to take back home with them. Aside from their donuts, you can get fresh kettle corn or visit Millie's Sweets Shop where they have 10+ varieties of fresh caramel apples, pretzel dippers, and roasted nuts.
*Guests are also welcome to purchase and take home their grass-fed beef which is available for purchase at the Country Store.
How do I get tickets to Cross E Ranch?
Tickets are required and must be purchased online at their website, they do not sell tickets in person, so if you show up to get tickets you can use your mobile device to purchase tickets and receive your email confirmation. They do this because they sell their tickets with offset entrance times. What's with their offset entrance times? Due to their immense popularity, they stagger their entrance times. You'll want to make sure to be there during your entrance time, especially if the farm is busy (which it definitely is on weekends). Despite needing to arrive at a certain time, you can stay for as long as you want. Certain entry windows have discounted pricing, such as the Early Bird Arrival, but you must check in between 9:30 am – 10:00 am. You can also receive a ticket discount during their Evening Entry, but you must be there between 6:00 pm – 6:45 pm. And keep in mind that the festival closes nightly at 8:00 pm.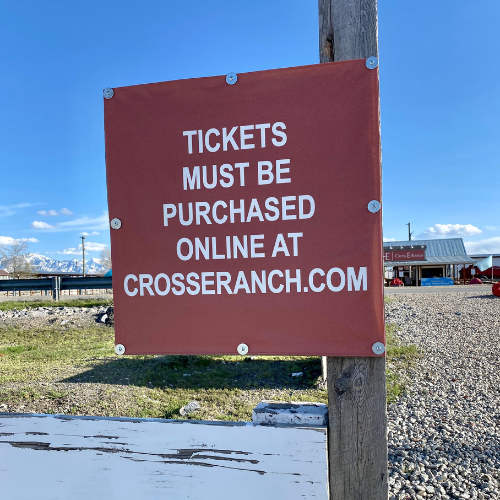 Ticket Prices
Monday-Thursday:

Adults (12+): $15.95
Kids (3-11): $10.95
Toddlers (0-2): Free

Friday-Saturday:

Adults (12+): $17.95
Kids (3-11): $13.95
Toddles (0-2): Free
Saturday Early Birds: Everyone is $9.95 at the 9:30 am slot but you MUST check in before 10:00 am
Late Bird: Every day after 6:00 pm, everyone is $9.95 – note that the ranch closes at 8:00 pm.
More ways to save:
Visit Monday through Thursday and save $3-$4 per person
You can subscribe to their emails for promo codes and special discounts.
If you plan to go more than once, a season pass is a great idea!
If you're not already convinced, visiting Cross E Ranch during its festivals is a great way to spend a day with family and friends. You'll have the chance to see and interact with a variety of animals, enjoy fun activities, indulge in some tasty treats, and have great memories of being nibbled by goats. Whether you're a local or just passing through, this farm is definitely worth a visit and you'll find yourself coming back next year, the year after that, and the year after that.
---
Discover more in Davis
Whether you're just here for the day, the weekend, or temporarily stationed at Hill Air Force Base, you can find monthly events to plan ahead and more indoor and outdoor amusement options to maximize your experience in Utah's Amusement Capital!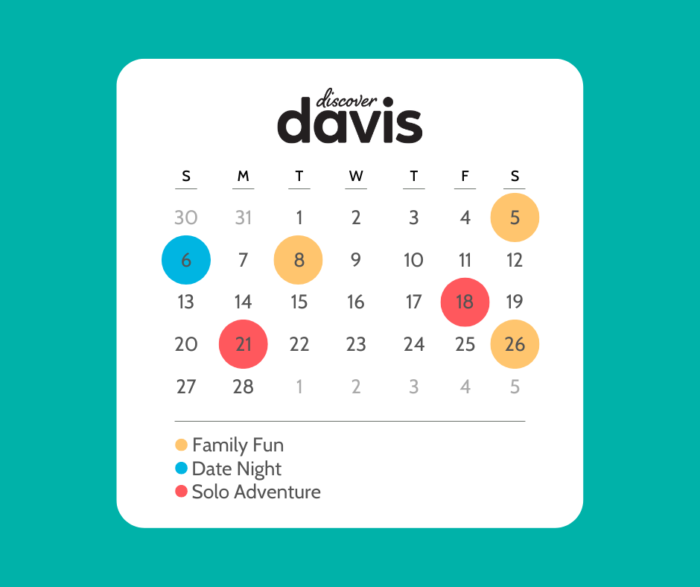 Fun All Month Long
There is always more to do in Davis! Check out our events blog to find out what's happening this month!
Plan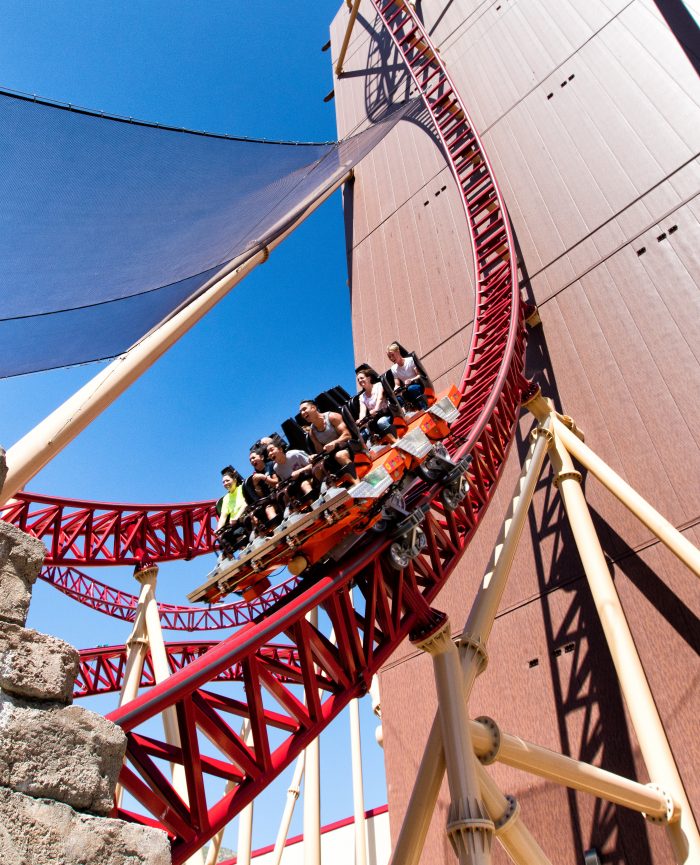 Every Type of Fun
Indoors, outdoors….either way, amusement is calling and we have options for everyone!
Play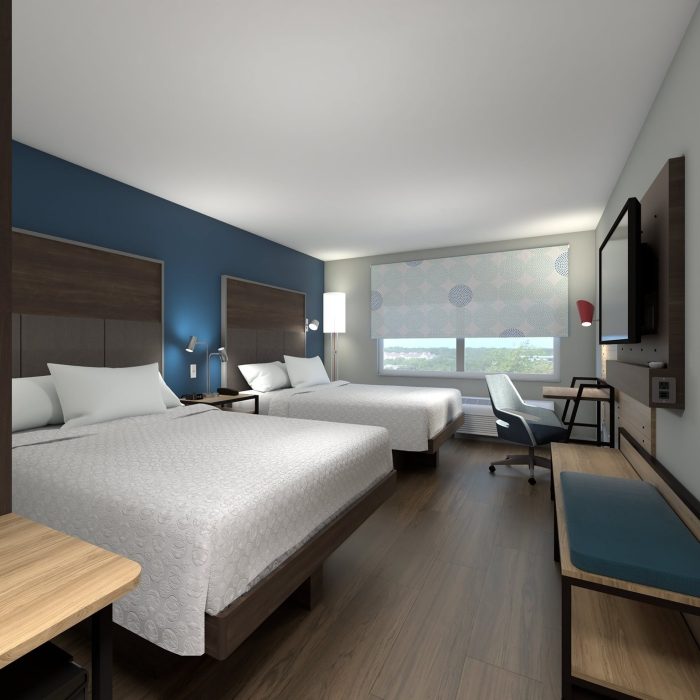 Find a Place to Stay
Want to stay longer? We don't blame you! Find a nice hotel or the perfect camp or RV spot for your stay.
Stay