31 January 2022
Discover Bald Eagles in Davis!
by Discover Davis
Cover Photo: Ila Jean Larsen
February is unofficially Bald Eagle Month! That's because by February, these raptors have migrated to Utah by the hundreds in search of food and warmer weather. While birding may not appeal to all, birding for bald eagles is a fun and exciting activity (not to mention free and family-friendly) to view these impressive raptors in their natural habitat!
A great place in Davis to view them? Look no further than the Eccles Wildlife Education Center at the Farmington Bay Wildlife Management Area, located at 1157 S Waterfowl Way in Farmington. You can often see eagles near the center and make sure to step inside (admission is free!) and check out their displays, including one that features a bald and golden eagle. It's open Tuesdays through Saturdays, from 9:30 – 4:30 p.m.
People can get a free, collectible Blad Eagle Month pin at any of the regional DWR (Division of Wildlife Resources) offices or during the events (while supplies last).
Benjamin Franklin wanted our National Bird to be the wild turkey. Bald Eagles are bullies and often steal their food rather than catch it themselves – you'll often see them going after Osprey or Hawks who have just caught their dinner or steal eggs out of their nests.
"For my own part, I wish the Bald Eagle had not been chosen the Representative of our Country. He is a bird of bad moral character. He does not get his living honestly."
– Benjamin Franklin
---
More bald eagle facts to enjoy: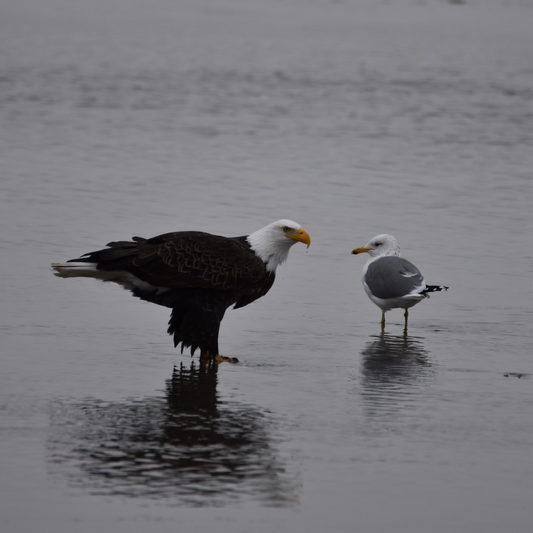 When do they go 'bald'?
Eagles take 3-5 years to go bald aka reach maturity. Immature bald eagles are often mistaken for golden eagles due to their overall brown plumage with mottled white.
How big are they?
Bald eagles have an impressive wingspan of 5-6.5 feet!
Do they mate for life?
Yes. Typically bald eagles mate for life and return to the same nest year after year.
Do males look different from females?
Females are the larger of the two, other than that their plumage is the same.
How do you tell the difference between an immature bald eagle and a golden eagle?
Immature bald eagles can be mistaken for golden eagles before they get their characteristic white head and tail, but bald eagles have bright yellow talons and beaks whereas golden eagles have darker beaks.
The oldest bald eagle on record lived to be 38 years old before it was hit by a car in New York.
---
To see other events and viewing spots throughout the entire state, check out this article here.