28 August 2023
The Bountiful Davis Art Center Plein Air Competition
by Discover Davis
The Bountiful Davis Art Center, aka BDAC, is a nonprofit organization with a mission to engage the community in educational experiences, cultural programs and high-quality fine art. Visit the gallery and stroll through the art exhibits, or learn how to make your own artistic masterpieces with one of their classes. Bring the whole family once a month for their FREE Family Art Nights to do a different craft. Aside from art, you can enjoy quarterly live music performances, participate in seasonal events like Winterfest and Summerfest, and come laugh at their improv comedy every Friday night! Want to see what else is happening at the BDAC? Jump to those events here.
Bountiful Davis Art Center Golden Hour: 9th Annual Plein Air Competition
On View: September 22- November 4, 2023
Opening Reception: September 22, 2023 | 6:00 pm – 8:00 pm
---
Golden Hour: 9th Annual Plein Air Competition
---
Bountiful Davis Art Center Events
The Bountiful Davis Art Center has fun events year-round including musical performances, monthly classes, art summer camps, and the annual Summerfest and Winterfest Art Jubilee. Not only that, but they have recurring weekly improv comedy and monthly family art nights. No matter what time of the year you're here, chances are they've got something fun going on! Check back often to see the updated class schedule, exhibits, and events.
Recurring & Upcoming Events
The Improv-ables
THE IMPROVABLES perform live, family-friendly improv every Friday. Each show is custom-tailored to our audience that night, so you never know what to expect – and neither do we! That's the fun of improv – we take your suggestions and the things you love to create an unforgettable, never-before-seen, one-of-a-kind comedy experience. The shows last 90 minutes. Tickets are required.
Family Art Night:
Art Class Schedule
Each month, the BDAC puts on visual art classes and workshops. This month's classes include:
Digital Photography with Lindsay Godin | July 13
Wheel Throwing Sampler with Lindsay McBride | July 15
Cyanotypes with Lindsay Godin | July 15
Past Events
Summerfest
With festival season upon us, we will be celebrating 36 years of Summerfest – Bountiful Davis Art Center's FREE outdoor celebration of art, music and culture. This festival features live music and dance performances, art demonstrations, make-and-take art projects, artist booths, food trucks and more! Bring your own blanket or chair and enjoy the amphitheater's grassy seating area and the beautiful summer weather with the whole family.
Where: Bountiful Town Square
When: June 12, June 19, June 26 | 5:00 pm – 9:00 pm
Art Summer Camps:
Youth Wheel-Throwing Camp with Victoria Brown
In this beginner course, you will learn the fundamentals of wheel throwing and create your own pottery. In each class, we offer instruction for young artists in a fun and supportive setting. Be sure to wear comfortable clothes and be prepared to get a little messy. Bring a friend and learn a creative skill. Spots for this class are limited. *Ages 10-18. Class cost includes materials.
When: July 11 – 14 | 1:00 pm – 3:00 pm
Watercolor Camp with Emily Bagley
Join instructor Emily Bagley to learn about the basics of watercolor. Whether you're just starting out or have prior experience, this course is a great opportunity to learn new techniques and improve your skills! You'll create your own color wheel, practice gradients, learn different brush techniques and lettering, and dabble with effects like salt and rubbing alcohol to enhance depth and texture in your pieces. *Ages 8+. Class cost includes materials.
When: July 11 – 14 | 10:30 am – 12:30 pm
Musicfest
Musicfest features the highest caliber local and regional musicians, performing a wide variety of music genres, including classical, jazz, folk, and traditional music from cultures worldwide. Each concert is eclectic, engaging, and fulfilling while providing our patrons access to concerts that enhance our community and enrich our local arts and music cultural scene.
Concerts happen quarterly in January, April, June, and October. Each concert is one hour, a perfect length for a night out with friends and family. *Tickets are required.
Upcoming concert schedule:
January 19 | Winter's Resonance
April 13 | TBA
June 1 | TBA
Winterfest Art Jubilee
Each year Winterfest Art Jubilee features affordable art and crafts made by local artists and vendors. The work makes beautiful gifts or lovely décor for your home. Visitors may bring home anything purchased at BDAC the same day. Come through and pickup some one-of-a-kind art during our Winterfest Art Jubilee!
When: November 11 – December 23 | Tuesday – Friday 10:00 am – 6:00 pm & Saturday 12:00 pm – 5:00 pm
Opening Reception: November 11 | 6:00 pm – 8:00 pm
Chromatic Art Auction
Online Auction
Bountiful Davis Art Center's inaugural fine art auction, Chromatic, is a weeklong online art auction where collectors and patrons can bid on gorgeous artwork produced by professional artists via BidBeacon. This will run from March 04 – March 11. Your purchases directly support BDAC.
When: March 4 – March 11
Ticketed Live-Auction/Gala
On March 11th, the final evening of the auction BDAC will host a colorful ticketed, live-auction party for the highest caliber and most sought-after work. Wear your finest, most colorful clothes and join us to celebrate BDAC's inaugural fine art auction.
When: 7:00 pm – 9:00 pm
---
---
What else can I do nearby?
The Bountiful Davis Art Center is located on Bountiful Main Street. This is a great spot to do some shopping, grab a local coffee, eat some yummy food, and depending on the season, catch a cool event happening in the area. At the end of June, you can enjoy chalk art masterpieces up and down Bountiful Main Street during the Chalk Art Festival. Other summer activities include Summerfest, a series of cultural celebrations put on by the BDAC. Enjoy the Bountiful Town Square no matter the season! In the summer you can take advantage of the fun splash pad and park – plan ahead and pack some water clothes and a picnic. In the winter, you can bundle up and enjoy the Bountiful Ice Ribbon and warm up by the outdoor fireplace with some hot chocolate from FIIZ.
---
Make it a date
Admission into the BDAC is free! We love this as a budget-friendly date option, whether you make it a day date or a date night, there are options for fun in this area of Bountiful, all within 3 blocks.
The Day Date
Date Night
Make any night a date night at the BDAC, but opening reception nights are a fun experience. You can join a host of other art-goers to appreciate the new displays, mingle, listen to live music and enjoy some refreshments. After viewing the exhibits and letting your inner art critic come out to play for a bit, walk to Royal India for dinner. After dinner, walk to Bountiful Town Square and rent some ice skates to skate at the outdoor Ice Ribbon. After you can grab a hot chocolate from FIIZ and sip together by the outdoor fireplace. Or if you'd rather, walk back down to Main Street after ice skating and get dessert at Blacksmith Ice Cream – they stay open late until 10:00 pm.
---
Discover more in Davis
Whether you're just here for the day, the weekend, or temporarily stationed at HAFB, you can find monthly events to plan ahead and more indoor and outdoor amusement options to maximize your experience in Utah's Amusement Capital!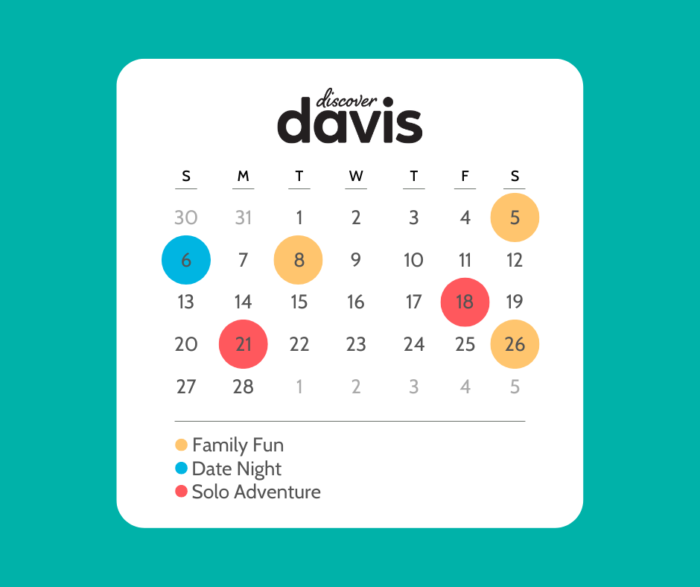 Fun All Month Long
There is always more to do in Davis! Check out our events blog to find out what's happening this month!
Plan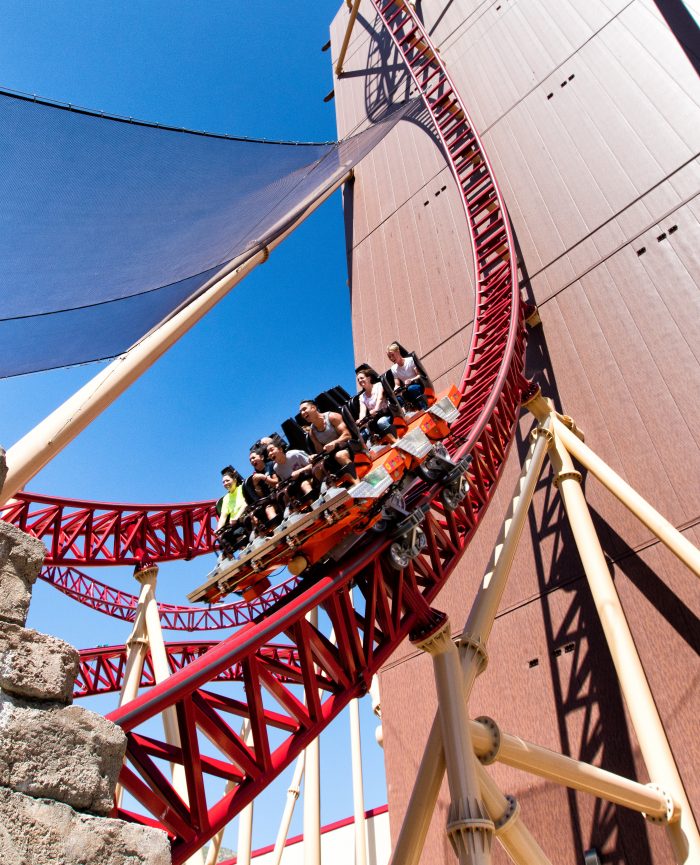 Every Type of Fun
Indoors, outdoors….either way, amusement is calling and we have options for everyone!
Play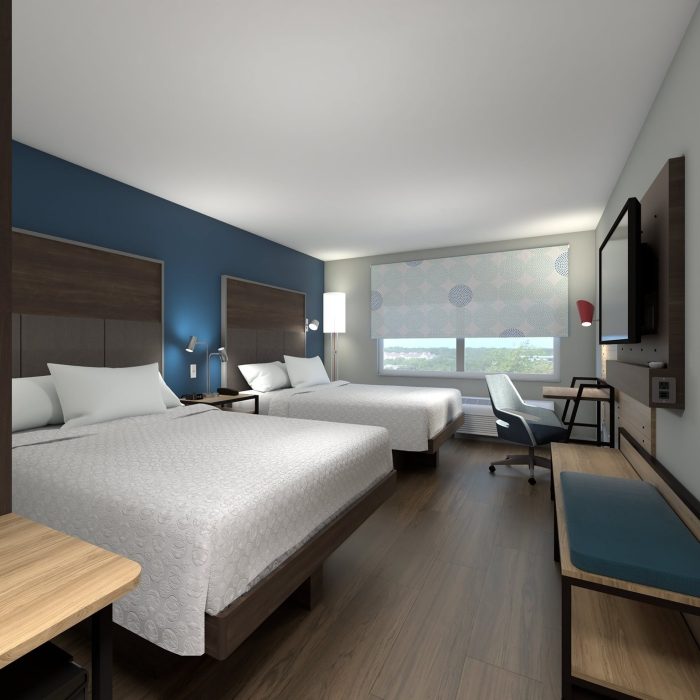 Find a Place to Stay
Want to stay longer? We don't blame you! Find a nice hotel or the perfect camp or RV spot for your stay.
Stay